CHATSWORTH, Calif., December 11, 2014 – Leading adult novelty producer Topco Sales® announces that its Hot Stuff line of sensual warming oil is in stock and available for purchase as a stocking stuffer just in time for those cold holiday nights.
The 6 oz. size edible oil – which comes in cherry, blackberry, apple, green apple, raspberry, strawberry and honey flavors – is water-based, non-staining and warms up quickly to body heat for a slippery good time.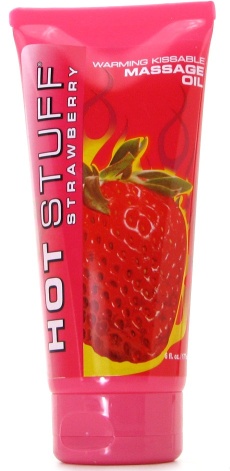 "We are excited to have our popular Hot Stuff warming massage oil available in time for the holidays," said Lynda Mort, Topco's Marketing Director for Private Brands. "Our customers get a kick out of the warming oils; they increase intimacy with their partners and feel so good on the body."
Hot Stuff warming oil is not only super rich, tasty and sensitive to the touch, but very user-friendly, and like all Topco Sales® products, has been safety- and quality-tested for customers' peace of mind.
For more information about Topco Sales®, please contact your local distributor, Topco Sales representative or visit www.topcosales.us.
ABOUT TOPCO SALES:
Topco Sales® is a leading global manufacturer for the adult novelty industry. For over 40 years Topco Sales® has based its business model on quality and innovation to create a variety of groundbreaking products and classic designs. With its headquarters in Chatsworth, California, Topco Sales® continues to grow with the most popular brand names in the industry: AdamMale Toys™, Asylum, AVStar®, Bottoms Up®, Cake, Climax®, CyberGlass™, CyberSkin®, Danni's Toy Box™, Down and Dirty, Doki Doki®, Flicker®, FunZone®, Glo-Glo a Go-Go, Grrl Toyz®, Hardware, Japanese Silk Love Rope™, Jill Kelly Superstars Collection®, Joanna Angel™ Burning Angel Toys, Love Swing®, Lure®, Michael Lucas After Hours, My First™, Night Moves™, Penthouse® Toys™, Sex Swing™, Sex Tarts®, Slimline G®, TLC®, UltraZone®, WildFire®, and the 69® Collection.