Adult entertainment superstar
Venus Lux
(
www.Venus-Lux.com
) compiles a special selection of her popular
Venus Rising
columns in a digital book form. Since 2012
Venus Lux
has been writing about her life experiences and journey as a transsexual female in her regular column
Venus Rising
. As well as covering a myriad of topics inside and out of the adult industry,
Venus
has described her column as
"One part advice column, one part 'sexpose,' and one part soap box for me to stand on."
Now,
Venus
has personally collected a special set of her columns for
Venus Lux Diaries
.
"The work I did on Venus Rising was very special to me," said Venus. "It also provided me the opportunity to educate, inform and assist those going through their own transformations. I'm very proud of what I have written and hope that people who order Venus Lux Diaries can take something special away from reading it."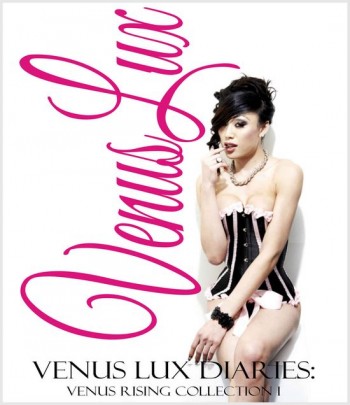 The Venus Lux Diaries can be downloaded for Kindle reading from the Amazon website here: http://bit.ly/VenusLuxDiaries.
In other Venus news, the stunning sex star recently guested on the Girl Boner Radio show. Hosted by August McLaughlin, Venus was on to discuss her career as an Asian Transsexual pornstar as well as her success in adult entertainment. The Girl Boner Radio show can be heard on August McLaughlin's website http://bit.ly/AugustMVenusLux or via iTunes: http://bit.ly/iTunesVenusLuxGB.
Venus Lux Diaries is available now on Amazon.com! Get ready to explore the exciting world of Venus Lux in this revealing look at her thrilling life!
For more Venus Lux, visit the Venus Lux network:
www.Venus-Lux.com
www.Twitter.com/VenusLux
www.Instagram.com/VenusLux
For pictures of Venus Lux, please click here:
http://www.starfactorypr.com/venus_lux.zip
For bookings, Venus Lux can be booked directly at:
bookvenuslux@gmail.com