Building off a successful partnership in 2014, the makers of Trojan™ Brand Condoms and MTV are continuing the condom conversation with new Co Zone content featuring peer sex educator and star of MTV's "Braless" Laci Green. Recent research shows that 62 percent of people stop condom usage within two months of a new relationship[1], yet the CDC reports that 20 million new STDs occur every year and nearly 50 percent of all pregnancies are unplanned[2]. And with some STDs, like HIV, taking up to six months to be revealed in tests, an open dialogue on sexual health is imperative.
Created in collaboration with MTV's long-standing "It's Your (Sex) Life" responsible sexual health campaign, the "Co Zone Convo" vignettes highlight the 'honeymoon' zone in a relationship – when couples are the most alive, comfortable and relaxed. Often known as the best part of any relationship, this period of time is where condom usage tends to drop off. For this year's campaign, the Co Zone vignettes have been augmented with new content from YouTube vlogger and peer sex educator Laci Green. Known for her entertaining and educational content on sexual health, Laci brings her unique style to the topic through a series of digital videos and blog posts including on-air content that will be featured in the 2015 "MTV Video Music Awards" broadcast. In her blog post, "10 Condom Myths Too Many People Believe," Laci debunks the top 10 myths about condoms, reinforcing the importance of compliance and continued condom usage in any stage of a relationship and emphasizes the importance of having the conversation.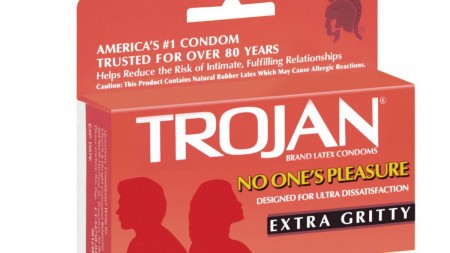 "This campaign is all about arming people with the tools they need to practice safer sex.  When people have information about condoms and communication, they make safer choices and lead healthier sex lives," said peer sex educator Laci Green. "These are important matters of public health and it's so awesome to have the Trojan™ brand working on this with me!"
Laci's Co Zone vignettes are available beginning today, August 13, 2015, and her digital series will kick-off on Thursday, August 27, 2015 on Laci's YouTube channel and Trojan.itsyoursexlife.com.
Commitment, trust and exclusivity are often cited as the top reasons for discontinuing the use of condoms among repeat partners – however, the decision to stop using condoms is often made without important information. Realizing the importance of encouraging more conversations about condoms, especially in light of the high drop-off rate of condom use within two months of a relationship, the makers of Trojan™ Brand Condoms and MTV want to keep the 'Co-Zone' alive, generating conversation around this zone, and the way it affects both partners in the relationship.
"Condoms are the only contraceptive method that protects against both pregnancy and sexually transmitted infections and they are 98 percent effective at preventing unintended pregnancy when used consistently and correctly[3]," said Bruce Weiss, Vice President of Marketing for Trojan™ Brand Condoms. "Trojan™ wants to make this discussion easier and empower couples to have an open dialogue about condom usage in relationships and take charge of their sexual health."
To find more details on the campaign and research, visit www.trojan.itsyoursexlife.com.  Follow @TrojanCondoms online and join the conversation with #CoZone.
About TROJAN™ Brand Condoms
TROJAN™ Brand Condoms are America's #1 condom and have been trusted for over 90 years. TROJAN™ Brand Latex Condoms are made from premium quality latex to help reduce the risk of unwanted pregnancy and sexually transmitted infections. Every condom is electronically tested to help ensure reliability. There are over 30 varieties of TROJAN™ Brand Condoms. More Americans trust the TROJAN™ brand than any other condom. For more information, visit www.TrojanCondoms.com.
About the Trojan™ Condom Compliance Survey
The Trojan™ Condom Compliance Survey was conducted online from April 18 to April 28, 2014 with 1,000 single young adults. Single young adults are defined as adults 18-34 years old who are heterosexual, sexually active, single or in a "new relationship" under 2 years, and not pregnant or trying to become pregnant. For more information on samples and results please contact the below.