I've been sort of bored lately.  As the reigning MVP of blogging, it's hard to motivate myself. When Mike South was around, I could always count on him to make up some stupid story about FSC, Manwin and how he had the inside scoop.  It was great fun, he was my nemesis, myself, being Truth Justice and the American way, and him, a hillbilly mope booking bukkake off Craigslist..
Soon though, he was gone, now the website is fluff ran by someone who runs other news sites..
Every once in awhile, someone who I consider beneath me will write some stupid shit, and me being bored, I will take the time out of my busy hiking day to respond..
Earlier today, a story about former Spiegler Girl Honey Gold joining OC  titled "Trouble in paradise? Say it ain't so!"
The basis for the story was a tweet Honey had made the night before:
@HoneyGoldxx tweets: Just for clarification I am NO LONGER with the Spiegler Girl's Agency. I made the deliberate decision to move forward with @OCModeling
That tweet lead nobody blogger to say this:
"Ouch! I'm hearing a lot of these Spiegler stories lately. Trouble in paradise perhaps? Only time will tell. But even more telling than that tweet is this one …"
LOL  let me preface this with, the person who wrote this hates Spiegler, not only that, but this person also works for Direct Models and Plush Talent..
Hearing alot of what, random nobody blogger? The last girl to leave Spiegler was Lelani Leanne 6 years ago..  When someone isn't happy with Mark they can leave anytime they choose. Know why? Because unlike Plush, OC or La Direct, The Spiegler Agency doesn't have contracts…I wonder how many people would bail on their agency if they weren't bound by 1-3 year contracts and high priced buy out numbers?
But lets get back to Honey and what could possibly be the reason she left Mark and signed with OC.
First, Honey's porn BFF is Aaliyah Hadid, who purely by coincidence is with OC Modeling:
I'm sure that had absolutely NOTHING to do with Honey going to OC.
Second, Honey has been dating Donny Sins since almost day 1, he of course needed an agency and Spiegler doesn't represent guys. I'm sure him wanting to go to OC had absolutely NOTHING to with Honey going to OC..
I cant imagine Sandra would ever say hey Donny, can you bring Honey with you? after all, Mark doesn't have contracts like we do, so girls can come and go as they please: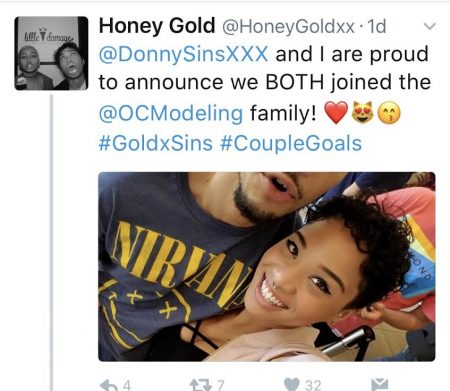 Yea, I know, only a fucking idiot like TRPWL with think Honey's BFF and Boyfriend would have anything to do with Honey leaving Spiegler.
It was probably something sinister, maybe Spiegs wanted Honey to blow up the Evil Angel offices using a sophisticated dildo bomb, Maybe Honey hates cats and Spiegler cut her down from 20 scenes a month to 10,  or maybe Mark wanted Honey all to himself, I can hear him now, in his Spiegler voice, "If I can't have you NO ONE can" then says "grab her", George jumps out of the back of Marks Mercedes and tries to abduct her, but Honey's love for Donny gave her a will to live and she runs off into the woods like Forrest Gump saving his best good friend Bubba..
The worst part of this is, this really wouldn't be news if someone who hates Spiegler didn't try and flip it into something its not.. The person who wrote this not only dislikes Mark, but also Kendra Lust
For the last 18 months, this person has written all kinds of bullshit about Society 15 and the people it employ's, accusing one of being a serial raper even. A couple months ago this same blogger, using a fake name that fooled no one, called Kendra a hooker on the old Mike South site. When it was brought to my attention, I texted someone who texted me back saying he couldn't believe this person wrote that and it would be fixed as he had no issues with Kendra.. Yea, I still have those texts BTW….
This hatred for Kendra and Society 15 lead to this post a few hours ago: "Apparently Society 15 Likes to Keep It Classy"
The basis for the story is Latin performer John Anthony's use of the word NIGGA. Now, this is funny, since I see countless numbers of female performers use this word on a daily basis, like this one:
A quick check of the OC website doesn't list her race, but she is available for IR which in my humble opinion means she's NOT black.
This nobody blogger was really just looking for an angle to attack  Society 15 and Kendra
"For those of you wondering, John Anthony is a gangster looking fellow repped by none other than Society 15. What can I say? Kendra Lust does like to keep it classy."
I guess calling someone a hooker while you schlep for people involved in prostitution is considered classy.. LOL
I'm pretty confident neither John nor Aaliyah were trying to be racist…I'm certain Aaliyah wasn't based on her tweet
I think I'm gonna start putting up lists of girls who drop the N bomb in a post with their agency in the title, then we can see which agencies have the most racists.  LOL  Yea, that wont end well for a couple agencies..
I wish Honey and Donny good luck with OC…