Look for the Performer of the Year on Releases from Naughty America, Airerose
VENICE, CA – Bonnie Rotten has three new DVDs in stores this week and you'll see her on the cover of two of them.
2 Chicks Same Time 18 (Naughty America) and Female Seduction (Airerose Entertainment) both come out this week. She shares the cover with Anikka Albrite for the Airerose release and with Skin Diamond for the Naughty America movie.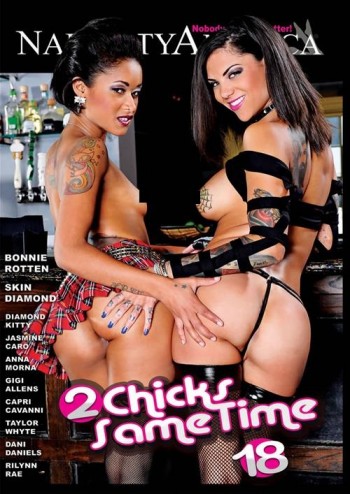 Bonnie also stars in Big Tits in Sports 14 (Brzzers), which releases this week.
Her recent directorial release, Cape Fear XXX (DreamZone), has been very well-reviewed. Here are some highlights:
ADT, ColleensDragon, 4 stars
As the director Ms Rotten keeps a consistent undercurrent of tension throughout the movie. I enjoyed the sharp but subtle gender role reversals prevalent in this parody. Parodies can go too broad but Ms Rotten keeps this one tightly under control.
ADT, astronight, 4.5 stars
Bonnie Rotten completely nailed this one both in front of the camera as well as behind it. In fact, she did such a good job that I felt the need to watch the original version, and ordered it online before I even finished watching this version.
ADT, Captain Jack, 4.5 stars
This was a masterpiece from Bonnie. Bonnie's acting was spot on! She carried this movie both off-screen and on and she should be very proud of herself. Bonnie appeared in three scenes and if that isn't a selling point, you're not a fan of porn! Her girl/girl scene with Jodi was one of the hottest of the year! Just spectacular! The sex was volcanic throughout and, let's face it, that's the main selling point of an adult DVD. Good story, good acting, great sex, beautiful women….what more can I say? Well worth adding to your collection today!
XCritic, Don Houston
a good enough sophomore effort to merit a rating of Recommended, Bonnie stealing the show in every scene she was in courtesy of her way over the top rendition of criminal mastermind Max Cady. … The movie is much more entertaining when viewed with a knowing wink than taken as a straight out thriller. I suspect Bonnie will surprise us all in the future as her talents behind the camera continue to grow, her sexual energy and intensity certainly always welcome in anything I get a chance to see.
Next week, Nov. 13-15, Bonnie will be at the Hustler Club in St. Louis.
Her official website, www.BonnieRotten.com, is now live. Fans can buy lots of products, including videos, memorabilia, novelties, DVDs, clothing and lube. Content will continue to be loaded onto the site.
Follow Bonnie on Twitter @thebonnierotten. Her official website is www.bonnierotten.com. For everything Bonnie go to http://risingstarpr.com/news/?page_id=4171.