A toothless man has been found guilty of biting his neighbor's penis 'like a sandwich' until it bled after an argument over loud music.
Jason Martin, 41, who only has one or two teeth, bent over and bit Richard Henderson, 39,  after receiving a text message asking him to turn his music down.

As the pair argued, a fight broke out and Martin bit down on Mr Henderson's genitals with so much force he required stitches.
Martin strenuously denied the charges and said: 'The thought of putting a man's penis in my mouth. Well, it's not for me. Not in a million years would I do it.'
He only admitted to grabbing Mr Henderson's 'bits and bobs' as he tried to defend himself during the scuffle.
The jury at Canterbury Crown Court in Kent found him guilty of wounding his neighbor with intent to cause serious injury.
Martin has now been remanded in custody and Judge Adele Williams is expected to sentence him next month.
Mary Jacobson, prosecuting, told the court how Martin received a text from Mr Henderson's partner, Michelle Hilton, about how loud the music was on his Xbox.
The pair then had an argument and when Mr Henderson made a jibe about Martin's alleged drug abuse, a fight broke out.
The defendant claimed he was punched first and then held in a headlock before being kicked.
Mr Henderson, who was wearing pajamas during the attack, was left covered in blood and was taken to hospital where surgeons had to stitch his penis.
He was asked about the experience and said: 'My willy was not attached to the rest of my body. I have never experienced that kind of pain to this day and I don't want to experience it ever again.'
Photographs of the injury were later shown to the six man-six women jury panel after they were warned: 'They don't make pleasant viewing.'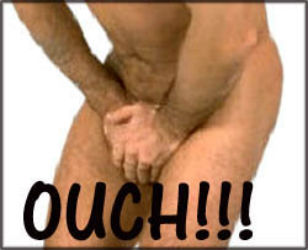 The court heard how Martin still had blood around his mouth when police interviewed him, but the defendant claimed it was from a 'fat lip' he received from a punch.
He told the jury: 'I have only got a couple of teeth in the lower part of my mouth. I can't even bite into a hard-boiled egg.
'I am not homosexual and there is no way I would put a man's penis in my mouth. Even the thought of it makes me sick.'
He was asked to show the jury his lack of teeth, saying he had dentures but only used them 'for cosmetic reasons'.
He added: 'I accept that I did grab his testicles, not maliciously or to hurt him badly.'
He said he went to the neighbor's flat because he thought the complaint was unfair and was grabbed by Mr Henderson, who then tried to ram his head into a metal staircase.
Martin broke down in the witness box during his trial and wept after admitting he had told police officers: 'I have not done anything to him'
He said: 'I had just grabbed around Mr Henderson. I didn't realize at the time that I had done anything to him.

'It was just a rat bite. I just grabbed into an area. I didn't realize at the time it was his testicles.'
Judge Adele Williams asked: 'You must have felt his penis and testicles in your hand?'
Martin replied: 'I didn't know if it was his penis or his testicles or his upper leg or arm. I didn't know what it was. I was just getting beaten up and I was scared.'