Bree Olson made hundreds of porn movies in her career until she got mixed up with Charlie Sheen and retired from the business last year. But she still has 360,000 Twitter followers and fans galore. Now she is going to be able to charge those fans money to have one-on-one conversations with her, thanks to internet voice technology from Verified Call.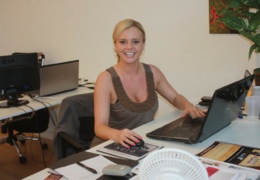 In a rare partnership between an adult entertainer and Silicon Valley, Olson (pictured above) has signed on to provide celebrity endorsement for Verified Call. In return, she gets a way to interact one-on-one with her fans in a secure fashion — and she also picks up some stock options in Verified Call.
With Verified Call, fans can place direct and anonymous voice-over-internet calls to Olson, without needing to know her phone number. Olson can charge for the call — her going rate is $8.99 a minute — and fans can pay directly with their phones or PayPal with a simple verification process. Olson simply embeds the Verified Call icon within her web site, BreeOlson.com (NSFW). Fans click on it, and enter their phone numbers. Within 15 seconds, Verified Call places a call to both the fan and Olson, who can indicate whether she wants to take calls or not. The system immediately bills the caller for a given number of minutes that the customer chooses, then the call goes through. The system can also schedule calls for later.
"I can post to Twitter and say I'm ready to take calls," Olson said in an interview with VentureBeat. "It's a new generation of simplicity for me. I'm an Apple fan and I like this clean design and an easy user interface. It's very classy and easy for both parties."
For fans, it's a chance for an "intimate," one-on-one conversation with a celebrity. For an entertainer like Olson, it's a safe system where she doesn't have to give out her phone number, and it's more manageable than a computer webcam, where she would have to sit in front of her computer. With the phone, she could have a chat with a fan — and make money from it — while stuck in a traffic jam.
"I like it because I've been curious about who some of the fans are," Olson said. "I can tweet when I want to take a call. Most of the webcams are huge chat rooms and the guys don't really get to say anything. It's one-sided. This is so personal."
This Silicon Valley-meets-entertainer meme seems like it's becoming more common. The adult industry has always been an early adopter of technology, from the VCR to DVDs to the internet. But recently even mainstream stars have gotten in on the Silicon Valley action. Ashton Kutcher, for example, has embraced technology and even invested in a wide variety of startups.
Vogner mentioned that uber angel investor Ron Conway is a star who should charge $500 per hour or more for his advice. Olson said, "I would pay $500 to talk to him! I love the tech scene."
You can kind of think of Verified Call as a tool for 21st-century celebrity life management. Olson, who has given up porn to focus on a mainstream acting career, still has lots of fans and she likes the idea of using technology to stay in touch with them. (To be fair, her website still shows plenty of skin, and she's continuing to make money on the 230 adult films she made during her career, and her work is all over the internet.) She has been on Twitter for five years and has a crazy-active channel on YouTube (officialbreeolson9) with videos like "Naked for Kony 2012," which has more than 600,000 views.
Verified Call started with a focus on web-based conference calls. But the team evolved the system to focus on one-on-one conversations. And it built the technology to include individual accounts, promotion, billing, and scheduling.
Vogner (pictured on the left) met Olson at the AVN Awards, the Oscars of adult films, in Las Vegas earlier this year. Olson, who vaulted into broader celebrity fame after she had a relationship with actor Charlie Sheen, hosted the show and Verified Call showed up to target adult performers with its technology.
"After five minutes of talking, we both knew we wanted to work together," Vogner said. "Bree has hundreds of thousands of conversations in her lifetime. To not be able to monetize that is a shame."
The system isn't just for porn stars, or retired ones. Lawyers, psychiatrists, and any other people who bill by the minute can adopt the system.
"Our first customers were attorneys because they are accustomed to charging for time," Vogner said. "This is classy too because you won't find a list of hundreds of people to call on our web site. This is a link that goes directly into Bree's own page."
At first, Olson will take calls for at least an hour a week. In that one hour, she could earn $539. Vogner says that if Verified Call can get a couple of hundred celebrity users, it will have a nice business that will generate a lot of its own publicity.
"There's a gap in the market for professionals and entertainers who can monetize their interactions with customers and fans," Vogner said. "For the fans, this is a lot better than getting an autograph."
As an advisor for Verified Call, Olson is also providing help to help refine Verified Call's features. She wants the company to add a bidding system where the highest-bidding caller wins out when lots of people want to talk to her at once. The billing is set up to prevent billing disputes; if Olson hangs up on the caller before the paid time limit is reached, the caller isn't charged. But if the caller hangs up first, then the caller is charged. If weirdos call, Olson can hang up. And those callers can be banned from placing requests for call backs in the future. Webcam software and Skype don't have such features such as the billing mechanisms.
Verified Call is self-funded and was founded by Vogner, a former vice president at Match.com and an early contributor at SFGate.com, in 2011. The company has six employees, not counting Olson. Rivals include traditional computer webcam services and My Phone Site. Olson didn't like the video on webcams because "people don't realize that us girls don't look perfect all of the time."
"This way, I can say I'm free and talk to respectful fans who are curious about talking to someone like me," Olson said. "My adult entertainment fans have transitioned over with me on the mainstream side, with comedy roles. And I'm gaining a whole new set of fans. They are generally interested in my day-to-day life. I never thought people would be interested if I said was visiting San Francisco. They want to talk about anything."
Source. Venturebeat.com