LOS ANGELES — Her studio may be best known for gonzo-style porn, but Dana Vespoli is exceptional. The Evil Angel director/performer's A Thing Of Beauty, arriving June 8 on DVD and VOD, is an ambitious, new XXX feature. Its story surprises, convincing acting, hellish imagery and clever special effects ignite a potent variety of sex scenarios in a depraved re-imagination of the traditional devil's bargain.
It's telling of the multi-faceted Vespoli that she found inspiration for this project in both classic literature — Goethe's Faust — and in a talented, young porn beauty.
"I had been wanting to do a project with Bree Daniels for a very long time, with her in a lead role," says Vespoli. "I think she is enormously gifted as a performer and as an actress, and I wanted to create a story for her." That became A Thing Of Beauty, and as Vespoli tells it, Daniels' character "finds herself seduced by a cast of sinister characters after she signs, seals and delivers her soul to the devil."
"A Thing Of Beauty surprises, delights and disturbs with creative ideas," says Evil Angel founder John Stagliano. "Skillful filmmaking and involving action make this erotic adventure memorable."
The director, equally beguiling and intimidating in her portrayal of a carnal she-devil, found motivation all around her. Vespoli explains, "I've always been drawn to the notion of the Faustian compromise, especially living in Los Angeles, where people seem willing to sell their souls for fame, money and beauty. I've always been amused by how we are such a litigious society — how we have contracts for everything to protect our interests, and on the flip side of that, to fuck other people over. We are also a 'fast food' society where we are all desperately seeking a quick fix and instant gratification, often failing to read the fine print, so to speak, and we suffer dearly because of it. I feel like we have all, at one time or another, wondered how far we'd be willing to go to get what we want."
In A Thing Of Beauty, natural-bodied redhead Daniels' transformation from mousy mess to confident cutie enhances her professional and sexual satisfaction. Her lovemaking with new boyfriend Logan Pierce is no automated porn sex; they look like a real couple excitedly experiencing each other for the first time. Daniels' deep-throat talent seems heavenly, but she's dragged to a darker place by black-clad hellions Sinn Sage and Karlie Montana; they dominate Bree in a brutal, blasphemous all-girl three-way. Stylish black beauty Skin Diamond bears bloody scars where her wings have been ripped off. Buxom fuck demon Aiden Starr makes the fallen angel confess her sinful pleasures in a rough lesbian session. Claiming another fallen angel (Mick Blue), Vespoli's literally heartless demon reveals her morality: "I can feel the grace of God going up my asshole, where it belongs."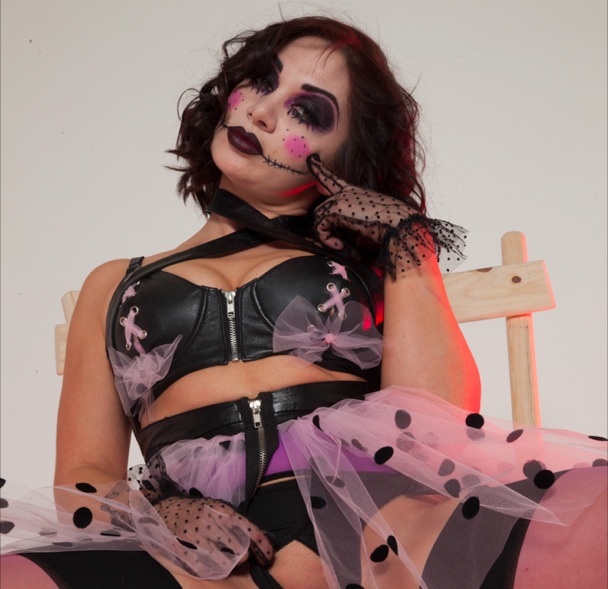 Vespoli's signature deployment of apt popular culture references enriches A Thing Of Beauty. She says, "The hell that Bree finds herself in was inspired by David Lynch's depiction of Agent Cooper's subconscious mind in Twin Peaks.' Pierce & Pierce, where Bree is working at the beginning of the movie, is the company where Patrick Bateman works in American Psycho."
A trailer available right now at EvilAngelVideo.com previews the striking visuals, twisted storyline and genuine Hollywood flourishes that make Vespoli's latest porn feature A Thing Of Beauty.