Vivid Entertainment will release 100% Real Groupies 2: The Mayhem Continues online at Vivid.com on Tues., April 28.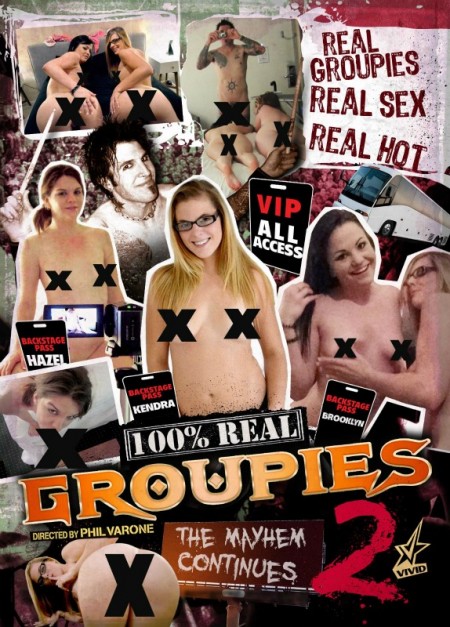 The movie is the second installment in  the wildly popular Groupies series created by former Skid Row and current Saigon Kick drummer Phil Varone, who now also directs and performs in the series.
Varone, who estimates he has bedded over 3,000 women in his lifetime, claims that as opportunity continues to present itself, the numbers will grow.  It's safe to say he will be adding to a new grand total with the Groupies series.
100% Real Groupies 2: The Mayhem Continues follows Varone as he continues on a Saigon Kick tour of the U.S. He plays drums and gives a bonus all-access pass to a secret world of Rock 'n Roll in which authentic groupies enjoy real sex with rockers as often as possible.  From backstage to hotel rooms, this uncensored series proves that anything you've seen or heard about this life is not only true, but almost unbelievable!"The best part about this series is each movie gets better and better by just pressing the record button.  It's always a good thing when there is just too much good footage and fun recorded.  The Mayhem Continues is a perfect title for part 2."
About Vivid Entertainment: Founded in 1984, vertically integrated Vivid Entertainment, known as the leading source for quality adult film entertainment, has created wide brand-name awareness through its films, innovative marketing and licensing programs.  Vivid-branded products range from condoms to vodka to apparel to gentlemen's clubs.  Vivid's movies are seen online, in DVD, VOD and on VividTV worldwide.  Its Vivid-Celeb imprint made "celebrity sex tape" a household word and helped launch the Kardashian phenomenon in the process.  Vivid is the most awarded studio in the history of the industry.  Vivid Radio—Vivid's 24/7 radio channel—is available on vividradio.com on the SiriusXM app.  For more on Vivid visit twitter.com/VividCorp or facebook.com/Vivid.Media Contact: For more information contact:  jackie@vivid.com or 800-762-4761