MONTREAL & LOS ANGELES, September 16, 2014 – Since the beginning, "Voracious Season Two" has been a unique brew of Gothic horror, psychosexual power exchange and striking performance. The visually exotic, hard-core serial surges to a crescendo with three superhuman sex encounters in its climactic installment. As the electric eroticism and wicked story culminate, "Voracious Season Two" assumes the long-term appeal that comes with a rarefied place in the canon of filmmaker John Stagliano.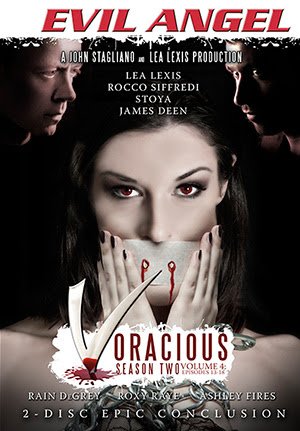 "This has been the most intense, by far, sexual story/encounter I have ever been a part of," Stagliano declares, citing in particular the acting and sexual performances of Rocco Siffredi and Rain DeGrey. He lauds Siffredi's dominance, DeGrey's submission and both performers' immersion into their characters. "Rocco and Rain fulfill my story like I never dared imagine. I contributed a few ideas about what I like about sex, rough sex, but essentially I feel like a bystander witnessing human expression that goes beyond my comprehension. Writing, directing and editing this is the peak of my career."
The 18th and final Webisode of "Voracious Season Two," titled "I Am Foul And Corrupt," goes live on EvilAngel.com September 29 for site subscribers, according to Gamma Entertainment affiliate program FameDollars. Stagliano's Evil Angel studio announces that on that same day, "Voracious Season Two Volume 4" will be released on DVD and VOD. "Volume 4" presents the DVD and VOD premiere of the kinky vampire epic's last six episodes.
The climactic chapter's trio of sex scenes brings the series to an edgy end with ass assault, throat abuse and messy spit play. Roxy Raye takes two crucifix dildos in her ass at the same time. Skin Diamond assists, before being confronted with those crucifixes by Raye. Vlad (Siffredi) is lured into this den of debauchery by his weakness for submissive sluts Raye and Ashley Fires. DeGrey gets degraded. Lea Lexis gets the last laugh and suck.
Calling Lexis "my co-producer and star," Stagliano says she "shows her spectacular aerialist skill, effects make-up skill, organizational skill and sucking skill, all in this final episode. The porn business cultivates sexual expression in magnificent and unexpected ways. Roxy Raye, the huge anal girl of Internet and Jay Sin fame, shows what it takes inside to do the amazing things she does with her body. Her natural acting and intense, imaginative sexuality are clearly, totally integrated into her person. And Ashley Fires — it is hard for me to wrap my head around how sexual, how totally abandoning to the moment this being is. Of course it is the challenge to fuck Mr. Rocco Siffredi here that brings out the best in these four women."
Shot in California and Eastern Europe, "Voracious Season Two" extends the sexy vampire lore and crafty filmmaking established in the popular, award-winning first season for devotees of Stagliano's fetish-laden, sexually intense cinema — whether they want their next fix at EvilAngel.com, on DVD or on VOD.