( LOS ANGELES, CA ) — Innovative adult entertainment company Vrai Voyeur has huge plans for the 2015 XRCO Awards Show.
The company has been chosen to film and broadcast the show on its web-based network. It is the first time the industry-only XRCO Awards has been filmed in a number of years. Using a full four-camera set up and shooting in real 3D, Vrai Voyeur is going to show the adult world just how good in can look.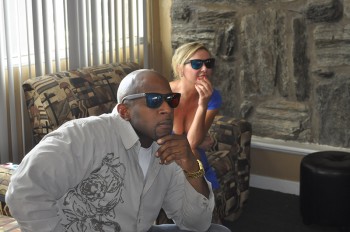 Relatively new to the adult industry, Vrai Voyeur President and lead director Isaac Levingston knows the significance of the industry-only show and party. "When we sat down and started planning our schedule," he says. "We knew that the XRCO Awards Show was something we needed to be a part of. It's the biggest industry party of the year of the year. No way we were going to miss it."
Attending the show was a must, but Noah wanted to do more. After showing XRCO's Dirty Bob a sample of their 3D work, he made a suggestion too good to pass up.
"When I got a good look at what Vrai Voyeur is doing, I knew that they would be perfect partners for us," says Bob. "We made the decision to put them in charge of shooting and broadcasting it."
In addition to filming the XRCO Awards, Vrai Voyeur will be debuting a preview reel of their upcoming projects. Everyone in attendance will get special 3D glasses with XRCO and Vrai logos to properly enjoy the sneak peek.
Included in the trailer reel will be a look at a XXX crime drama "Made" starring Violet Monroe, Tommy Pistol and Anthony Rosaso, a comic book line "Buttgirl and Pusswillow" featuring Ela Darling and a gritty series "Detective Major" starring Rome Major. Also highlighted in the preview are the beautifully erotic "In Dreams" and Vrai Voyeur's flagship series "Homemakers" starring Allison Killgore and Sally Sparrow.
The XRCO Awards will be a coming out party for Vrai Voyeur's unique brand of real 3D entertainment. Using no CG, the company is prepared to show the audience what is already streaming live on www.vraivoyeur.com as well as their network in Jamaica on Cornwell Cable. The 3D streaming programming will be coming soon to other countries.
Vrai Voyeur plans to have the XRCO Awards Show ready for broadcast before summer, letting fans all over the world experience the event as never before.
The 2015 XRCO Awards Show takes place on
Saturday April 11th
at Lure in Los Angeles
For admittance click the link below
https://www.eventbrite.com/e/xrco-2015-awards-show-registration-16134990190
Visit Vrai Voyeur www.vraivoyeur.com for live streaming content and your free FP3D-Glasses.
All media requests for interviews, appearances and all things Vrai Voyeur should be directed to Roger Pipe:
Rog@pipelinemultimedia.com