Los Angeles – Tattooed bombshell Vyxen Steel is featured in this week's new Elegant Angel movie Busty Pin Ups. Directed by Bonnie Rotten, who also stars with Vyxen, the scene is a take on the classic look of yesteryear. It combines the hardcore lesbian sex and squirting that you've come to expect from a Bonnie Rotten movie.
Vyxen also has a feature coming out, Hot Tub Whore Machine. Serialized on BurningAngel.com, part one of the time traveling epic was released in late May.
The first installment shows the perils of masturbating in the hot tub, as Vyxen is transported back to 1985, and meets a hair metal band. She proceeds to be gangbanged by Axel Aces, Erik Everhard, and Mr Pete. Keep an eye on BurningAngel.com for more installments, as well as a future DVD release.
"Vyxen pulls off the blond bombshell Pamela Anderson look from the 80s like no other . She looked amazing, and handled all three Cocks like a champion." said Joanna Angel. She continued, "She had a lot of fun with this role and put her own spin on it, and displayed her quirky sense of humor along with her incredible sexual skills. It was a real treat for all the Burning Angel fans! "
On July 10th a new Vyxen video for FantasyMassage.com is being released. After a rough visit from the in-laws, Vyxen and Axel Aces decide to try out a Nuru kit. After that slippery experience, their relationship will never be the same.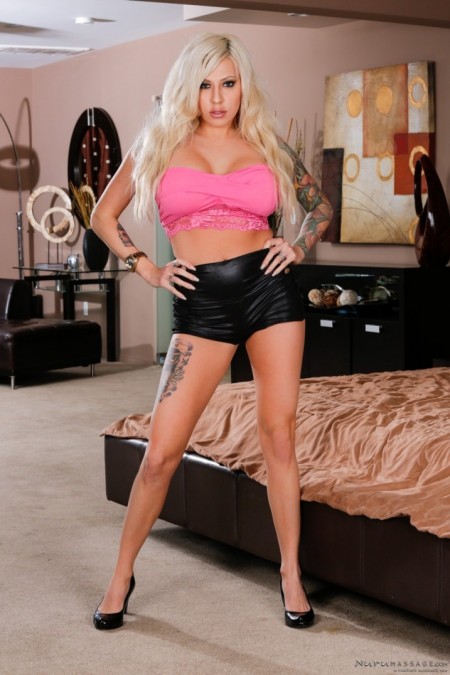 Recent releases include Lex's Tattooed Vixens (Evil Angel), Liquid Lesbians (Evil Angel), Axel Braun's Inked (Wicked) and Rectal Romance (Evil Angel).
Follow Vyxen on Twitter, view her wish list, or order a custom video. Fans can book Skype shows too by emailing Vyxen.
Directors and producers interested in booking Vyxen, please contact Mark@atmla.com. Owned and operated by industry veteran Mark Schechter, ATMLA is a fully Licensed and Bonded agency (LIC: TA-153358-1), and is always looking for fresh faces.Official website: www.atmla.com. For more information please call: (818) 825-1239
Follow ATMLA on Twitter and Facebook.
ATMLA is represented exclusively by Porn Star Ink for public relations.To find our more about Porn Star Ink, visit the company website at www.pornstarink.com or follow us on Twitter,
@PornStarInk
. To inquire about representation, or for media inquiries, contact
PornStarInk@gmail.com