George Clooney has repeatedly joked that instead of his eyes he gets the skin on his testicles 'ironed' out, but now it appears he's inspired a new craze in Hollywood.
Cosmetic expert Nurse Jamie told MailOnline that she added 'Tighten the Tackle' to the list of services at her Santa Monica spa, Beauty Park, last year, and it has been a raving success.
Delicately describing the $575 non-surgical treatment, the blonde beautician says it involves using lasers to remove hair, erase wrinkles and correct discoloration on the scrotum.
Like women, she explains her male clients are keen to 'keep their garden kept' and it's purely for aesthetic reasons.
During the movie awards season she's apparently inundated with requests and now many are gearing up for the Emmys this September.
She continues: 'They thought the Brazilian bikini wax was crazy ten years ago and now it's just part of the process . . the tide is turning – don't knock it until you try it.
'Down there the skin ages, it's a thinner skin like that around the eyes.'
Nurse Jamie, who refuses to reveal which celebrities she's treated, decided to investigate 'tackle tightening' after being bombarded with inquiries.
'Men are becoming more comfortable with their grooming habits,' she said.
On her website, beautyparkspa.com the procedure is sold more subtly as the 'Male Laser Lift.'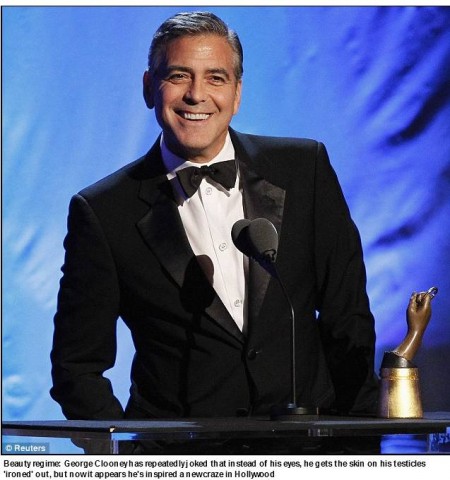 She said she had a difficult time coming up with a name and other contenders included 'Ball Ironing', 'Go Nuts' and 'Laser Polish The Crown Jewels'.
A blurb explaining the process reads: '[This] evens out skin tone, removes discoloration from ingrown hairs, removes skin tags and provides overall tightening to the external skin. You know where…'
Depending on what needs to be done, the hair removal process takes 45 minutes and it takes another 25 minutes to tighten and improve skin tone.
Results last up to four weeks and she recommends around six sessions. 'It has a high patient satisfaction,' she reveals.
Whereas 15 percent of her clients used to be men, that number has shot up to 40 percent.
On average they spend $900 at a time on small enhancements here and there – considerably more than women.
As well as A-listers, 'handymen, bankers and CEOs' are also keen to improve their looks below the belt, according to Nurse Jamie.
Just the other day she received a visit from a business executive who wanted to feel his best before a round of public speaking.
At first a little nervous, she said by the end of the consultation he was 'loving' the thought of everything he could have done.
'Male clients are so much easier than women. Most of them become clients for life,' she added.
Nurse Jamie predicts that her Tighten the Tackle treatment will become increasingly popular as people realize 'it's not as strange as it sounds'.
She declined to comment on George Clooney's claims.
In an interview with Italy's Max magazine this January, the 52-year-old actor said: 'I never fixed my eyes, but I spent more money to stretch the skin of my testicles.
'I did not like the wrinkles. It's a new technique, many people in Hollywood have done it. It's called 'ball ironing.'"
He also touched on 'ball ironing' in a 2008 interview with Esquire. Surgeons say such intervention can boost a man's self-confidence by tightening the skin and muscle around the testes.