Multiple award-winning director/performer jessica drake, and celebrated studio Wicked Pictures reveal the cover art for the upcoming "jessica drake's Guide to Wicked Sex: The Art of Striptease." The first nudity-only, soft-core instructional title in the acclaimed series is set to release September 10 and features starlet Alison Tyler on the cover.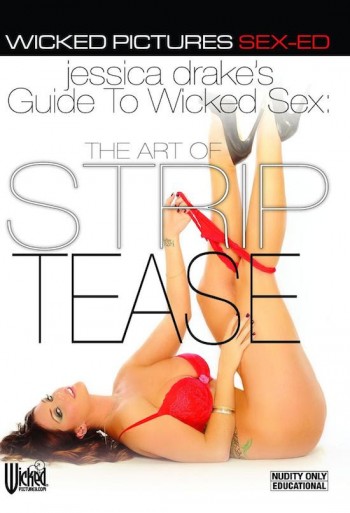 "'Guide to Wicked Sex' is a celebration of all aspects of sexuality, which is why I'm proud to announce the first nudity-only volume in the educational series," states jessica drake. "Sex is more than penetration – it's the seduction and eroticism leading up. In 'The Art of Striptease,' we aim to educate viewers on a popular form of seduction anyone can use to heat things up in the bedroom."
Featuring stars such as cover girl Alison Tyler, Beverly Lynn, and Sarah Shevon, the film demonstrates sexy techniques of striptease, including dressing in the right attire, undressing seductively with confidence, perfecting the walk of seduction, how to give a sexy lap dance, and even some pole tricks.
"I am so happy I was chosen to shoot 'The Art Of Striptease' and share my knowledge in a way that would help other women spice up their sex lives and get creative," says Alison Tyler. "I love instructional videos and I think they are a great learning tool if you are looking to experiment or try something new."
"I am absolutely ecstatic about being chosen for the cover," adds Tyler. "jessica is a phenomenal director; she is great at bringing out the best in each performer, while making us all feel extremely sexy."
Wicked Pictures President and founder Steve Orenstein said this newest title is the perfect compliment to the already highly successful series. "It's sexy, educational, and above all very entertaining – a must for those who want to learn the art of striptease from some of the best," Orenstein says.
Created in 2012 by Wicked Pictures, "jessica drake's Guide to Wicked Sex" is the leading instructional sex DVD series, featuring drake, who hosts each movie by taking viewers through a variety of topics such as relationship communication, learning trigger words, finding your partner's hot spots, presenting explicit sexual position demonstrations, sexual techniques, and more.
A much sought-after sexual wellness expert and Wicked Pictures contract star, drake travels the world, making speaking appearances with her message of sexual wellness and the importance of maintaining a healthy relationship through a mutually satisfying love life.