LOS ANGELES, CA / NEW YORK, NY – (August 28, 2015) –  Following this week's announcement that she will lead TEAM WICKED for the fourth year at AIDS WALK L.A., sexual wellness educator and Wicked Girl jessica drake is taking the stage for a rare dancing appearance at popular gentleman's club Sapphire New York Saturday night, August 29th. Sapphire New York is located at 333 East 60th St, New York, NY 10022.

The evening's high-energy revelry will give fans the opportunity to see the 2015 NightMoves award nominee and creator of jessica drake's Guide to Wicked Sex in person, as well as support her efforts to raise funds for AIDS research. "I only feature dance a handful of times a year," jessica reveals. "This weekend's show will be particularly important to me as I'm donating all the tips I receive onstage to TEAM WICKED and AIDS WALK L.A."  jessica will be available for fan photos, lap dances and autographs as well.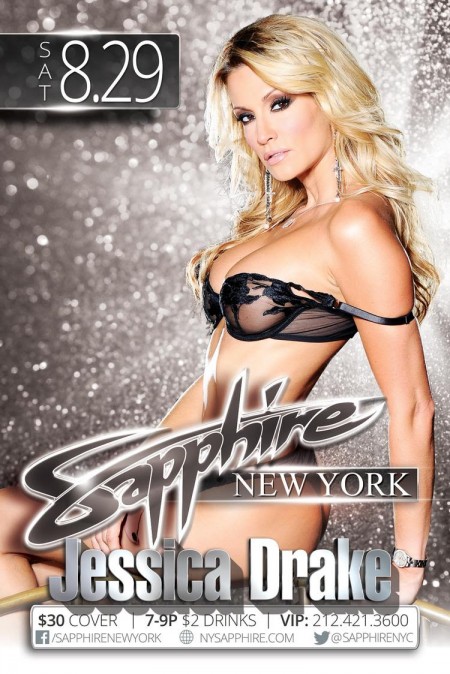 From feature dancing and humanitarian pursuits to appearing in high-profile DVD releases, jessica is seemingly everywhere at once in 2015.  September will see her gracing two of the year's most anticipated adult blockbusters: NightMoves Best Director (Features) nominee Stormy Daniels' epic Wicked / Adam & Eve co-production 'Wanted,' arriving in stores September 16th, and blockbuster creator Brad Armstrong's 'Starmaker,' available on the 30th. For more information, please visit www.wicked.com and wickedb2b.com.
jessica is also set to appear in a rare, uncensored live show on ImLive.com September 9th at 8 p.m. PST. In addition to entertaining her fans, drake is doing the show to bring awareness to TEAM WICKED's AIDS WALK L.A. fundraising efforts.
From philanthropic activities to the film sets of Hollywood, all the world's a stage for jessica drake, the dazzling woman whose commitment to positive sexuality – and her fans – grows with every passing day.
For more, visit www.wicked.com.