Adult cinema stars spend most of their days doing warm-up genital exercises, having sex in front of a camera, and then wiping off. But what happens when they don't have to work? The answer can be found on WoodRocket.com's sexy & funny new web series, Porn Stars' Day Off.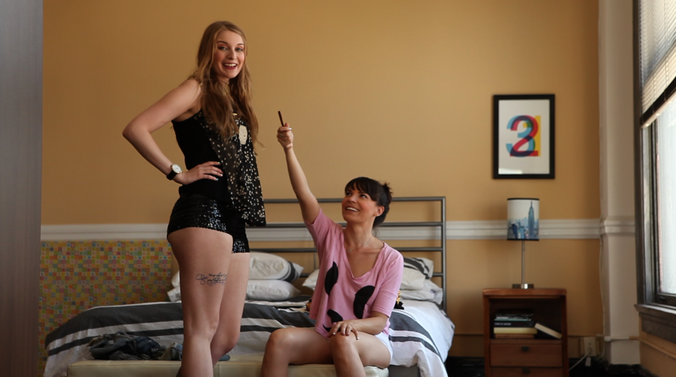 Each episode of
Porn Stars' Day Off
features XXX starlet, Dana DeArmond, and her sexy porn friends on fish-out-of-water adventures, like golfing, shopping, and even pant-less Twerking, all with hilarious and sometime pantless-booty-shaking results.Known as "The Internet's Girlfriend", Dana DeArmond is an award-winning porn star, a cutting & sarcastic Internet star, and definitely one of the sharpest tools in the smut shed. As the host of
Porn Stars' Day Off
, Dana keeps the episodes biting & sharp & hilarious & sexy. You have never seen a show like this before!
"When I saw the pilot of this show, I fell in love. I love this show! And I think that anybody that is looking for something edgy, interesting, fun, or sexy to watch, will watch this and fall in love too. In every episode Dana brings out the best and the worst in her guests and herself. And those bests are amazing moments, and the worsts are amazing moments too. I'm telling you, you have to watch this show! It is hilarious!" said Lee Roy Myers of WoodRocket.com.
And as if that wasn't enough, WoodRocket is premiering a track off of the upcoming album, "Animals" from Canadian super-band, Bend Sinister, as the theme song to Porn Stars' Day Off,
Porn Stars' Day Off is Free on www.woodrocket.com. The series begins on February 27th.