WASHINGTON — Morality in Media this week called on federal authorities to probe ICM Registry after the .xxx operator received initial approval for the .porn gTLD.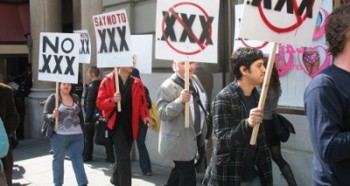 The anti-porn group, led by Patrick Trueman, the former chief of the Justice Department's Child Exploitation and Obscenity unit, said that the establishment of a .porn domain will increase the spread of online porn.
Trueman, who has asked Attorney General Eric Holder to investigate the registry because it may be in violation of federal obscenity laws, says his group is angered over the way .xxx has evolved in its first 20 months.
"The .xxx domain advocates said these domains would solve the Internet's porn problem with pornography companies leaving the .com domain and relocating on .xxx, making the rest of the Internet porn-free," Trueman said. "But porn companies did not give up their .com sites and instead opened additional sites."
"18 U.S.C. §§ 1462 and 1465 prohibit distribution of hardcore, obscene Internet pornography. Yet, isn't that the purpose of the .xxx and .porn domains?" asked Trueman. "Attorney General Eric Holder should review the activities of ICM Registry in relation to these federal criminal laws immediately."
"In addition to the increased amount and deviant nature of pornography that will now be available, ICM Registry stands to make untold millions from the defensive registration of .porn domains by non-porn companies. Schools, bloggers, and individuals will be scammed into buying 'protection' on each new porn registry in order to safeguard their good name."
ICM Registry CEO Stuart Lawley told XBIZ that he's taking Trueman's statements lightly.
"This is nothing new from Morality in Media and we look forward to introducing .porn in the same responsible way that we did with .xxx and the unique grandfathering program we have that allocates the matching .porn name to the .xxx owner is one such example of our responsible approach that has been welcome by industry and general observers alike," he said.