Denver, Colorado – Porn parody label "The XXXL Ray Network" debuts a new segment on it's website GrindhouseXXX.com this Friday night. Titled "The XXX Chair" it is a interview segment hosted by XXXL Ray's creator Tarantino XXX featuring him in one on one candid conversations with performers & directors in the adult biz. 
A similar show of the El Rey Networks "Directors Chair" show which is hosted by Robert Rodriguez, Tarantino XXX wanted to create a porn version of that with the XXX Chair. "I felt I needed to create this to showcase to the world the stories and vision of porn from directors of the past and today that I respect, admire, and who inspire me."
The debut episode will feature a candid one on one with Elegant Angel's director Mime Freak. Future episodes will be released in September and will feature interviews with Wicked Pictures' Axel Braun, Jonathan Morgan, and long time performer Steven St. Croix.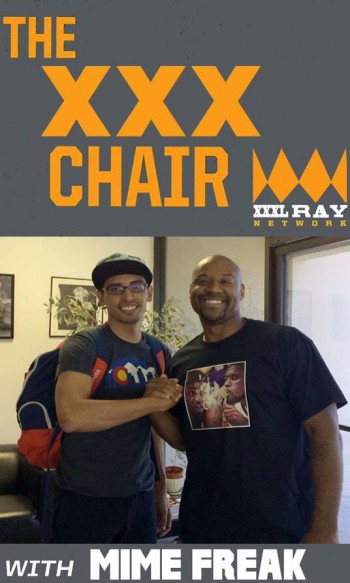 You can watch and download all episodes of the XXX Chair for free at XXXL Ray's official website GrindhouseXXX.com. You can contact Tarantino XXX by email: TheTarantinoOfPorn@gmail.com or follow him on Twitter @TarantinoXXX