Airerose Entertainment is pleased to present the soft trailer for Pure 4, the fourth volume of the gonzo powerhouse's bestselling young girl line streeting March 26. Featuring a fresh flock of four females down for a full-fledged fucking, the SFW glam trailer for Pure 4 is available for viewing and download on the Airerose Entertainment Promotional Site.
Fresh as daisies and frisky as fuck, the ladies of Pure 4 exude pure sex and sensuality, and let it all out in four scenes as unique as they are. Sprightly starlets Carmen Caliente, Jenna Ivory, Morgan Lee, and covergirl Zoey Foxx tease and please with their pretty squeeze-boxes and give in to pure ecstasy so captivating that fans will revisit again and again.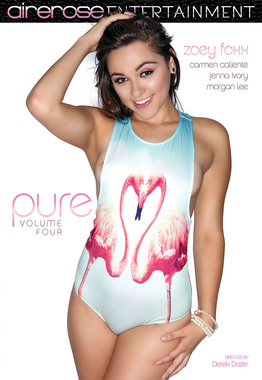 Adam H., VP of Airerose Entertainment, stated, "The supple, sly starlets of Pure 4 are such a delight to look at, to watch them in action is a dream. This glam trailer really showcases the youth and spirit of the girls of Pure 4, and leaves you wanting so much more. Keep your shelves hooked to the Fountain of Youth by pre-ordering Pure 4 and stocking up on other titles in this bestselling series."
Pure 4 includes bonus features like hard and soft photo galleries, and trailers for Airerose's other gonzo titles.
Follow us on Twitter to stay up to date with news about Airerose and it's stars: @airerose.
View SFW trailers for Airerose's past releases and video vlogs on the Airerose Entertainment Youtube Channel.
For order inquiries, please contact Adam H. via e-mail at adam@airerose.com or at 800.999-2483 x1228.
For PR & media information, please contact pr@airerose.com or 800.999-2483 x1582.