Peeing in a cup is usually reserved for the doctor's office — but hundreds of University of Calgary students did it at school and might have managed to break a Guinness World Record.
The school's Wellness Centre co-ordinated the Pee in a Cup event to try to break the record for most people being tested for sexually transmitted infections in 24 hours at a single venue. Both of the infections they tested for — gonorrhea and chlamydia — can be detected through a urine sample.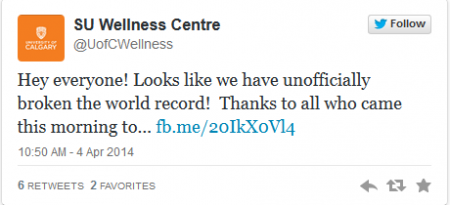 "The biggest high-risk population is actually this population: young people in Alberta are at the highest risk of getting an STI," said Debbie Bruckner, director of the Wellness Centre. "There are no symptoms for the two types of infections that we're testing."
The Wellness Centre says it is submitting documentation to Guinness to prove the event broke the previous 500-person record and will likely get official confirmation in two or three months.
Both infections for which the students were tested are on the rise among young people.
Chlamydia is the most commonly reported bacterial STI in Canada and rates of infection have risen since 1997.
That increase is partially attributed by Health Canada to people not using consistent safe sex practices.
"A lot of people don't realize [barriers are] important," said Bruckner. "If women are on the pill, they're thinking, 'Well, I don't need a barrier method,' but many STIs are passed not even through oral/vaginal intercourse but through other kinds of sexual activities."
According to a 2012 report by Alberta Health Services, the rate of gonorrhea infections in the province is also high.
The Alberta rate of infection is 42.5 per 100,000 compared with the national rate of 33.1 per 100,000 in 2009.
Gonorrhea has developed resistance to multiple strains of antibiotics since the 1940s and is now the second most common STI in Canada.
'Murky area' for young adults
The free testing event was designed to have a carnival-like atmosphere so that people would feel comfortable participating.
"For young adults, it's a murky area," said event volunteer Breanna Case. "We still have a lot of religious groups that are opposed to premarital sex … that just compounds the stigma. If you admit to having an infection, that means you're obviously engaging in sex, which is sometimes not viewed as appropriate conduct for young adults."
All of the tests are being handled by Calgary Lab Services.
Any students who test positive for infections will be notified and the Wellness Centre says it will follow up with them to ensure they can get proper treatment.