Up-and-coming adult starlet Katrina Jade is a self-described "happily married slut wife, who's happy getting fucked and filled up with cum on and off camera".
The petite 23-year-old natural beauty, who started in the industry in early 2014, recently appeared on the cover of Axel Braun's Inked and was featured in Evil Angel's Lex's Breast Fest 5 with Lexington Steele. Keep an eye out for more upcoming scenes from this stunning performer.
How did you get started in the business? How long have you been performing?
I got started with kink.com in February 2014. I just applied and started performing.
What surprised you most about the industry?
The level of professionalism big companies take to insure a quality product.
What is the biggest misconception you think people have about performers?
That we don't take care of ourselves. I've heard negative hygiene stories mostly pertaining to brand new talent, but haven't experienced anything but gorgeous squeaky clean co-stars.
If you weren't a performer, what would be your "dream" job?
Haha this is my dream job, any safe and controlled environment where i get paid to orgasm.
What is one fact about you that your fans might be surprised by?
I don't drink or smoke or do drugs.
It seems like your career skyrocketed overnight! How does it feel to have your career move so fast?
Well, to be honest, I don't have any other career to compare it too, haha. I just love fucking and I hope it shows. I don't have a no list, I'll do anyone and enjoy 1000% of it. Just shut up and fuck me and cum wherever you want.
You also have a great Twitter presence. You come across as down to earth, funny and smart. Do you think interacting with fans via social media is important?
I just like talking shit on twitter about stupid shit, hahaha, yes I do. Obviously, the more eyes you have on you is important to advertising when your scenes drop. Producers notice.
How do you deal with trolls?
I'm un-trollable, go crazy lol.
What are your feelings on the controversial dick pic?
Don't send them unless I ask for it, pretty damn simple. Thank god for the block button haha.
Your husband [Nigel Dictator] snaps a lot of "public nudity" pics of you for Black Candi Images. Do you have any interesting stories about reactions from people, etc?
I was sucking his cock once in a laundromat and a 30-something lady walked in and laughed and said, "Oh nice…don't mind me, get it" so I kept going, I swallowed all his cum and we all talked about bullshit and did our laundry all together.
Another time we were shooting on a freeway overpass, my pussy and ass were all out and a cop drove by and honked. after we were done we realized we were directly across the street from the Santa Monica police department lol.
What scene are you most proud of to date?
The ones I've yet to film 🙂
What other scenes/movies do you have coming out?
OMG, I've got probaby 20 that haven't come out yet.
What is your favorite type of scene? What type of scene would you want to do?
Whenever I'm getting cum in my pussy I'm happy; a 10 guy creampie gangbang.
Are there any production companies you would love to work for?
The companies I haven't shot for will either hire me or not, that's not my department haha. But everyone I have shot for rehire me often.
How can producers get in touch with you?
For bookings contact Sandra at OCModeling.com. For any additional questions, you can email me at kj.fetishmodel@gmail.com 🙂
Who would you love to work with? Male? Female?
Anyone who is a strong and intense performer, and I prefer to NOT work with girls who are strictly gay for pay. I ain't trying to have a shitty scene so you can make your rent. GTFO haha.
Do you have a website or a wishlist?
Website is in the developmental phase, Amazon is here.
Do you plan on publishing your Incest Haikus?
Hmmm…a coffee table book that would make a nice Christmas present to give to a family member you've always wanted to fuck. Good idea!
Speaking of incest, let's play "Kill, Fuck, Marry" Dad, brother, uncle. And go!
Hahaha that's a tough one. No comment, hahaha!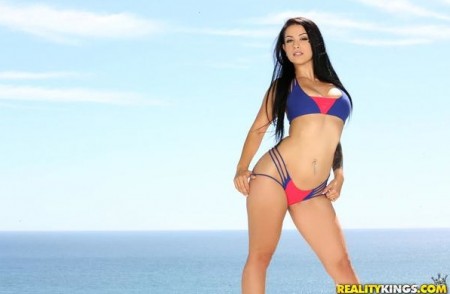 If there's one thing you can say to your fans, what would it be?
Keep watching me and I might just show up at your house and let you fuck me sometime!
How do you see your future in the industry?
I just want to fuck until I'm an old lady, on and off camera. Any company that wants fucked up ideas that would sell, should sit down with my husband and I 🙂
Follow Katrina Jade on Twitter and on Instagram