Whenever possible, TRPWL likes to spotlight promising up-and-coming performers in the adult world. And if they can rock a pair of eyeglasses, that's a plus.
Well, one night out on the Las Vegas strip last month, I ran into bespectacled 18-year old starlet Maya Grand, along with this other dude…
Using my super-secret powers of advanced perception, I immediately surmised that a TRPWL interview was in order. Without further ado, here's the adorable Maya Grand..
Hey, Maya. When did you shoot your first XXX scene, and what led to you trying your hand at a career in adult entertainment?
I had been curious about what shooting porn would be like and thought I'd give it a go when I was of age. I shot my first boy/girl scene back in February [2014] for Combat Zone.
What was your first day on set like?
My first shoot was on Valentine's Day and I got a box of chocolates and a teddy bear. It was a pretty fun shoot as far as first scenes go.
Had you watched much adult material before you decided to throw your hat in the ring?
I certainly watched my fair share. [smiles]
Tell us some of the work you've done so far, and the companies you've worked with —
I've done scenes for Combat Zone, Black Market, Fallen Angel, ATK, and some fetish scenes for KickAss pictures.
Where did your porn name come from?
My first dog was named Maya, and I grew up on Grand street. I chose it my first day on set, a little last-minute.
What's your favorite thing about the adult business?
Having fun on set and getting to travel for shoots.
What's your least favorite thing about the adult business?
Super long shoots.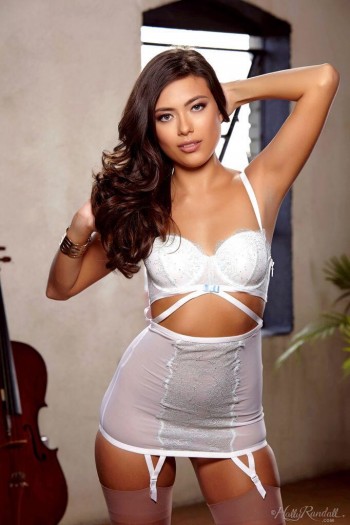 Your Twitter profile says "Pastry Chef Extraordinaire". Tell us about your interest in the culinary arts —
Cooking is one of my passions. I've loved cooking since I was little. I'm currently saving up for patisserie classes at Le Cordon Bleu.
Are you an gamer? If so, if you had only one game what would it be? 
Not much of a gamer; I still have Tetris on a Gameboy.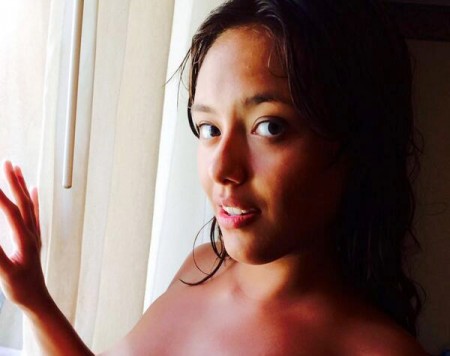 Where are you from?
I'm from Minneapolis, Minnesota.
What were you like growing up? Were you an attractive child or an ugly duckling?
I was definitely an ugly duckling.
What's your ethnic background?
I'm half Native American with a little Mexican, Italian, French, German, Irish and Finnish.
You still have your God given boobs. What's your opinion on boob jobs?
I have nothing bad to say about boob jobs. I'm happy with my girls though.
Any tattoos or piercings (or plans to get any) — and do you find them sexy on others?
Not yet. Maybe sometime in the future, but no time soon. I'm a fan of tattoos on guys.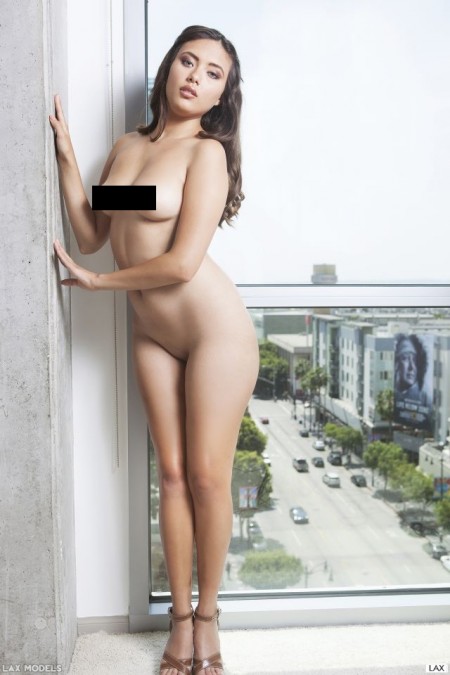 Would your high school fiends be surprised at your career in adult entertainment?
I think they would be shocked, I was the typical quiet girl.
What's your favorite kind of cuisine?
I love Indian food.
Do you use any type of dietary/health supplements?
Nope, not currently.
Have you ever been involved in a freak gasoline fight accident?
Thankfully not!
What's the best time of day for sex?
Morning sex is the best.
What are the ingredients in a great blow job?
Spit, suction, eye contact, spit, stroking, more spit.
Do you have any pets? And, Is it true that you can milk anything with nipples?
None with me, but I have two Chihuahua's back home. Haha, it may be so.
Try it! Anyway, if someone wanted to see the best Maya Grand scene so far, what should they watch?
I'd say, my anal scene in Amateur Angels 28.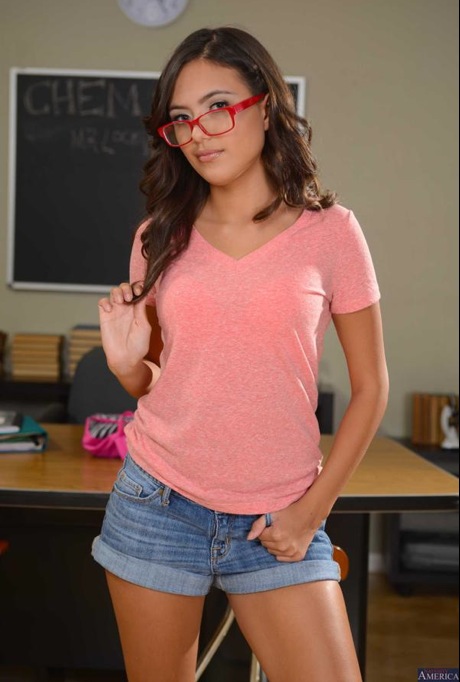 Let's talk about anal — is it something you did in your personal sex life prior to entering adult films?
Yes, I had done anal before I started thinking about shooting porn.
Is ass to mouth an essential, natural part of any sexual encounter?
I wouldn't necessarily call it essential. Haha
Well, thanks for stopping by…
Just kidding. Have you ever used ninja focus to slow down your heart rate?
Nope. There's a first time for everything, right?
If you had to shoot only one type of porn scene for the rest of your career what would it be?
I'd probably just do bj scenes.
What's your favorite type of sex off camera?
I love morning sex, especially in doggy!
If you went out and bought a guy you were dating some gourmet chocolates, and when you gave them to him he told you, "I'm sorry, I only eat carob," would that be the end of the relationship?
I'm gonna go ahead and say yes.
We always hear about "THE NO LIST" with the porn performers — do you have a No List? And if so, tell me what someone has to do to earn a place on it…
I don't have one yet. If they were disrespectful or unprofessional on set I wouldn't want to work with them again.
If you were booked with someone who had questionable behavior would you address it with the director, or your agent?
My agent.
Have you ever cruised porn sites, twitter, or adult talent agency sites, to perv on who you might want to work with?
I can't say I have. Haha.
Who's your favorite co-star so far?
The sexy and talented Mr. Kurt Lockwood.
What's your favorite company to work with so far?
I enjoyed shooting for Fallen Angel.
Has a Lumberjack ever traveled 500 miles to give you his seed? Be honest. 
I can honestly say no. Haha.
Do you prefer to drive yourself to shoots, or do you use a driver?
I use a driver mostly.
Pubic hair: do you shave or wax?
I prefer to shave my kitty.
Who has the best tasting vagina?
I have yet to do my first girl on girl scene. Ask again in a month or so.
Do you have a porn BFF?
No, not yet. I've only met a few other girls in the industry.
Do you find it difficult to date, or maintain a relationship, being a performer, and why?
I don't think so if the ones you are dating are also in the industry.
Starfish, balloon knot, colon rose, or other — what's your favorite nickname for a butthole?
Haha, I think starfish is the cutest nickname.
.
How long in centimeters, not inches, is the biggest wiener you've encountered?
25.4 centimetres
Any funny stories of things that happened while you were shooting a sex scene?
Once a dog fell asleep and started snoring just after we started shooting. I guess dogs don't find porn entertaining.
Do you webcam, and if so, what is your favorite type of cam session?
I do webcam, I prefer doing solo cam shows.
What do you enjoying doing in your private life — hobbies, etc?
I love swimming and biking, anything I can do out in the sun.
Do you have a 'before bedtime" ritual?
I like to take baths before bed.
Are you currently harboring any fugitives?
Definitely not!
Interesting answer… If I stole your iPod what would I hear?
I listen to mostly everything mostly rock and alternative.
What song can you play over and over and never get tired of?
How do you stay fit? Do you have a particular health / work-out regimen?
I like to mix fun and exercise, like swimming or biking at the beach. I do the squat challenge, too.
Have you ever lost a loved one to a machete fight?  Would you ever consider being part of a machete fighting PSA?
No, no I suppose not. Haha.
How often do you have sex in your private life?
Practically every day. [smiles]
Would you date a chicken farmer who wrestled part time?
With a killer personality?
Very good… Real boobs or fake – which is better?
I prefer natural boobs.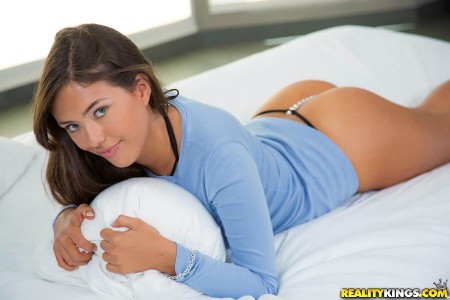 What are your thoughts about AHF's crusade against the adult business, and do you think the government should be able to mandate what you can and cannot do with your body?
I think everyone should be able to make their own decisions when it comes to their bodies.
If the law considered it sufficient, would you shoot with an untested male performer who wore a condom?
No, everyone should be tested, condom or not.
Do you know what a stage 5 clinger is?
A stalker?
If someone came to you and wanted advice on entering adult work what would you say? 
I would say to go straight to a good agency.
Any chance of you getting your own website?
I hope to in the future.
Where will Maya Grand be in five years?
I hope to have continued pursuing my culinary career and have advanced in my porn career.
Bookings: http://laxmodels.com/Maya-Grand.html
Twitter: https://twitter.com/MayaGrandXXX