New Sensations announces the release of "My Hotwife's Black Bull," a bold and rousing depiction of interracial hotwifing. Co-directed by Eddie Powell and Paul Woodcrest, the four-scene vignette marks the launch of a new series, pairing today's hottest female talent with the industry's top black male superstars.
"The interracial and hotwifing genres make for good bedfellows," Eddie Powell said. "Interracial sex plays a big role in many hotwifing fantasies. Our goal is to always give our fans what they want at the highest level of quality. We assembled a fantastic cast of beautiful women and top-tier male performers and captured the fireworks."
"My Hotwife's Black Bull" features the all-star cast of Valentina Nappi, Casey Calvert, Ava Dalush, Amarna Miller, Sean Michaels, Prince Yahshua, Jon Jon, and industry icon Shane Diesel, star of the recent and bestselling hotwife release "Shane Diesel's Black Bull For Hire."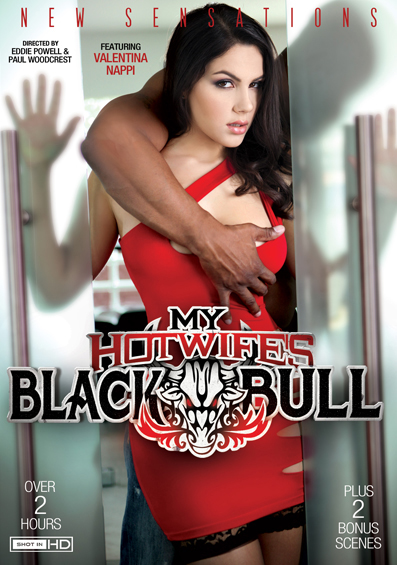 Hotwifing is the practice of sharing one's wife sexually with other men and deriving pleasure only from her arousal. A "bull" is the male hired or invited to fulfill a couple's hotwifing fantasies. Not to be confused with cuckoldry, the act involves no humiliation or displays of dominance. "My Hotwife's Black Bull" is a sex-positive depiction of the hotwifing lifestyle and is inspired by true accounts.
"My Hotwife's Black Bull" presents four tales of insatiable hotwives fulfilling their interracial fantasies through flings arranged by their doting husbands. Cover girl Valentina Nappi is thrilled to have a husband who lets her fuck black men, especially when she sets her sight on bodybuilder Prince Yahshua. Casey Calvert agrees to leave her phone on for her spouse to hear her scream as Sean Michaels dives deep inside her. Ava Dalush barges into Jon Jon's house eager and determined to begin their tryst, barking orders until he teaches her respect, manners, and how to submit to a bull. Amarna Miller tells Shane Diesel she's very small, but it doesn't matter because her husband has already given him permission to do anything he wants to her.
"My Hotwife's Black Bull" has a runtime of 128 minutes and includes an exclusive photo gallery, candid Behind-the-Scenes featurette, and two bonus scenes.
To view the trailer for "My Hotwife's Black Bull," click here.
New Sensations is the leader in hotwifing entertainment, ushering in the genre last year with its XBIZ award-winning movie, "Tales From the Edge: I Love My Hotwife." Additional releases include "Shane Diesel's Black Bull For Hire," "He Came Inside My Hotwife," Watching My Hotwife 1 & 2," and the "Tales From the Edge" vignettes "How to Train a Hotwife," "My Hotwife's Lover," and "A Hotwife Blindfolded."
About New Sensations / Digital Sin: New Sensations / Digital Sin is a worldwide leader in adult film production, committed to creating and producing high end erotic content in a variety of genres. The studio has received multiple awards and worldwide acclaim for a variety of titles ranging from dialogue-driven features to all-sex releases. Its Romance Series, which includes such popular films as "Second Chances," "Lost and Found," and "The Friend Zone," went on to inspire the creation of The Couples Series, The Erotic Stories Collection, and The Swingers Series. The Couples Series' film "Torn" and The Erotic Stories Collection's "The Submission of Emma Marx" remain two of the studio's most highly decorated films to date, with both national and international award recognition. New Sensations/Digital Sin is also known for bringing feature-quality, filmic style to their vignette series with "The Innocence of Youth" and award-winning "Tabu Tales" being some of its most lauded releases.
To view the latest information about all New Sensations titles, visit New Sensations, The Romance Series, Tabu Tales, Twitter, or YouTube