Last month, Free Speech Coalition's PASS (Performer Availability Screening Services, formerly APHSS) Program announced that, as of September 19, all performers will be required to test every 14 days in order to be cleared for work. Previously, performers were subject to either 14 or 28-day testing requirements, depending on the policy of the producer hiring them, and the testing preferences of the respective performers themselves.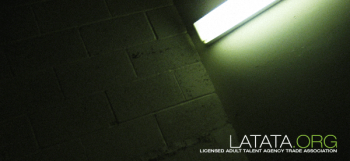 Yesterday, the Licensed Adult Talent Agency Trade Association (LATATA) announced a proposal it maintains would ease adult performers' "burden of financial responsibility" for testing by requiring adult producers to share some of the cost.
It is hereby recommended that a testing fee of $20.00 [per performer] be applied to each and every production day. This will enable the majority of performers to recoup a portion of the increase. Sharing in the increase of cost means productions companies will not have to absorb the entire cost if performer rates were to increase in order for the performers to cover this substantial increase in the testing expense.
Notably, the press announcement did not answer the question of to whom this 'Testing Fee' would be paid. Neither did it state who would administer the funds, or how these monies would be apportioned.
The reason the statement did not address it, TRPWL has learned, is because the heads of the LATATA member agencies are sharply divided on the subject.
Derek Hay of LA Direct Models is the strongest proponent of having LATATA collect, administer and distribute the funds, while the other members want 'Testing Fee' payments made either directly to the performers, or through the agency that booked the shoot.
Mark Schechter of ATMLA detailed his preference for how the fee system would operate: "I will invoice producers the $20 as a separate line item 'Testing Fees' and the entire amount goes directly to the talent, either in the form of a credit to the account or a reimburse payment."
The head of another agency likes the idea of payments being made directly to talent, except in the case of producers who elect to wire talent fees directly into the agency bank account. In those instances, the 'Testing Fee' would be reimbursed to the client in full.

Mark Spiegler of Spiegler Girls does not want his agency to deal with a separate check for a 'Testing Fee' and prefers any such fee be "paid directly to the performer."
One agency owner saw a potential downside to a LATATA-administered system: "The money is for the performers, to reimburse their out of pocket costs. Why put someone else in the middle, where people could accuse LATATA of mishandling the money?"
The LATATA statement commended producer "Glenn King of 'Mean Bitches' for stepping forward and being the first to put this much discussed ideal into practice."
King seems to have been the inspiration for the proposal: the producer recalls a recent conversation in which he informed Hay he would voluntarily be adding a $25 fee to the check paid to each LA Direct performer he was booking. Hay liked the idea, King says.
That's right, a policy designed to benefit performers, paid for by producers, has its origin in an act of conscience by a member of the much-maligned group of adult producers. King has been adding $25 per performer for some time, irrespective of who the performer's agent is, and today, Intersec Interactive announced it will be adding $20 to its model rates to help to defray the cost of testing for shoots requiring it (boy/girl and girl/girl scenes).
The LATATA plan would clearly benefit adult performers, but it might also be a boon to the agents.
One advantage lay in the fact that, typically, most agents find themselves in a situation where their performer clients owe them money for commissions or fees. Having control of a performer's 'Testing Fees' offers them leverage, or the ability to offset the performer's debt.
Having LATATA administer the 'Testing Fee' funds would also benefits its member agents: by making the fund an exclusively LATATA project, it would grant member agencies a distinct business advantage over smaller talent representation entities: the unique ability to offer its performer clients reimbursement for their testing costs.
But the political aspects of this proposal don't end there. LATATA's statement underscores the tug of war between the group and Free Speech Coalition, which made the decision to switch to 14-day testing in the wake of the recent HIV cases among adult performers. LATATA's announcement notes that, "the organization vehemently opposes the unilateral manner in which this decision was made…. As agents representing approximately 75% of the Adult Industry performer population, as well as servicing 90% of all production companies with its performer needs, LATATA's members feel their voice and participation in such matters are vitally important to the continuity of the adult industry."
Doubtless this is true, and I's equally true that such power struggles are inevitable. But while FSC created and began administering the PASS testing verification and performer availability database – a non-profit health and safety project created in the wake of AHF's destruction of the AIM Healthcare clinic — LATATA has a very mixed track record on performer safety issues.
In June 2012, LATATA withdrew its support for PASS, then called Adult Performer Health & Safety Services (APHSS), on the ground that APHSS had "excluded" Talent Testing Service (TTS) from APHSS membership. In reality, TTS had refused to provide information to the APHSS database, and had not yet met the requirement of having a California-licensed physician affiliated with its California locations to both prescribe the tests and deliver the results to the performers. Nonetheless, LATATA backed TTS over universal performer testing, moratorium and partner notification protocols.
And, as AVN pointed out, LATATA's withdrawal from APHSS (which, by most accounts, was spearheaded by Hay and Shy Love, then head of ATMLA), came "on the heels of [adult producer] Manwin's statement on June 12, that it would only accept [HIV tests] from APHSS-approved facilities within a 15-day window, starting July 1."
Less than two months later, the inherent weakness of this flawed, patchwork system became abundantly clear when XBiz reported that, according to Shy Love and Derek Hay, a male performer had altered his paper test and worked in the industry while knowingly contagious with syphilis. The performer was Mr. Marcus, and when he tested positive for syphilis at TTS on July 14th, less than a month after LATATA had backed that testing center over APHSS, TTS did not notify anyone in the adult business. Not performers, not producers, not agents, not APHSS. No one was told.
Ultimately, TTS adjusted its practices to conform to APHSS/PASS standards, and was brought into the fold to create a uniform, universal testing, test verification and partner notification system. It was this integrated system that worked to successfully prevent any on-set transmissions in the recent Cameron Bay HIV outbreak.
However, the issue of more frequent testing for adult performers has once again spurred a conflict between LATATA and FSC. One truly odious passage in LATATA's 'Testing Fee' announcement reads:
LATATA would also like to state it will continue to service and support production companies / studios choosing to remain with a 30 day testing policy; the testing fee for those studios is asked of them, as all others, but is not considered mandatory.
Even among LATATA members, this statement is viewed as Hay taking a swipe at FSC, in that the proposal offers producers a financial incentive to disregard PASS testing protocols. With it, LATATA is, in essence, using its proposed 'Testing Fee' as leverage to pressure producers into opting out of PASS.
TRPWL believes strongly in the necessity of universal performer testing, verification, notification, and moratorium protocols, and also believes that a 'Testing Fee' reimbursement plan would be of great benefit to performers. We are particularly pleased that the idea had its genesis among adult producers, the group most demonized by those, such as AHF, who scheme to destroy the adult business.
However, a 'Testing Fee' reimbursement system, regardless of who administers it on behalf of talent, is far too good an idea to be used as a chip in a political poker game – especially when the stakes are the health and safety of adult performers. LATATA must stand up for its performer clients and never incentivize the weakening of performer testing.