Ex-MMA fighter War Machine, aka Jonathan Koppenhaver, was arraigned Thursday in Clark County District Court in Las Vegas, Nevada
The defendant was present, in custody, seated in the holding area at the Las Vegas Regional Justice Center. He could be seen chuckling with his attorney, Brian Watkins, prior to entering his plea.
Hearing Master Melisa De La Garza later accepted War Machine's plea of Not Guilty to all charges.
Hearing Master: Sir, have you now received the second amended Information stating the charges against you?

War Machine: Yes.

HM: Did you read through it?

War Machine: Yes.

HM: Did you understand those charges?

War Machine: Yes.

HM: Do you want to waive a formal reading of the charges?

War Machine: Yes.

HM: How do you plead?

War Machine: Not guilty.

HM: You do have the right to a trial within 60 days. Do you want to waive or invoke that right?

War Machine: I'll waive it.
The court then set a February 17 trial date for the case. The 33-year-old remains jailed and could get life in prison if convicted.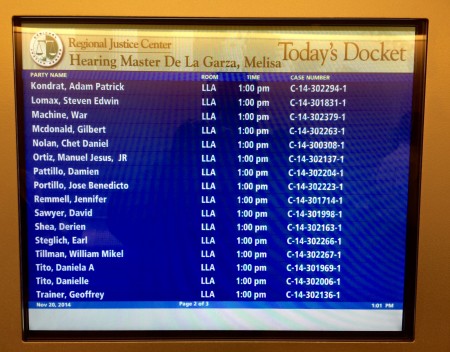 War Machine faces 34 felony charges attiring from a brutal attack on adult film star Christy Mack and her companion Corey Thomas on August 8.
The victims survivors were not present for today's brief hearing.
War Machine's publicist, Amanda Earley, attended the arraignment. The defendant's Twitter account has remained active since his arrest in August. Earley explained that a friend of Koppenhaver had been posting the tweets for him, but her company would soon take over his account.