Penthouse Pet and adult entertainment superstar Tasha Reign will take the stage at popular gentleman's club Cheerleaders Philadelphia on Friday, January 16, and Saturday, January 17. Tasha will be celebrating her birthday at the club, but it will be Cheerleaders' patrons receiving the gifts, as the buxom blonde will be available for lap dances and pose for fan photos between performances.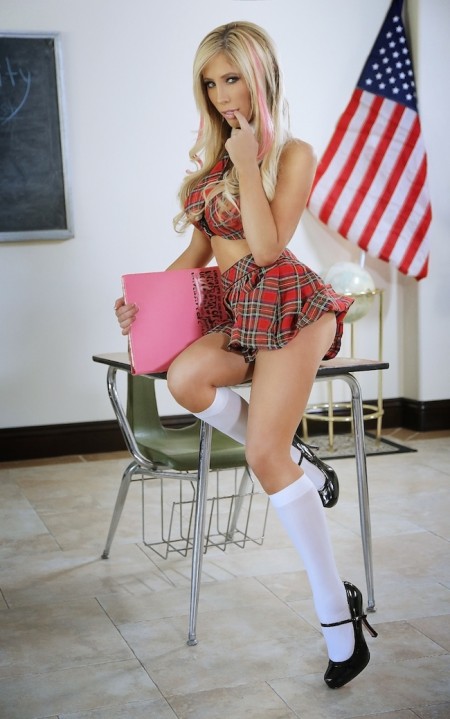 Cheerleaders is located at 2740 South Front St. in Philadelphia, where doors are open 7 days a week, 12 noon – 2 a.m.  For more information about Tasha's appearances, including VIP packages and covers, visit the club's site at www.cheerleadersphiladelphia.com or contact Cheerleaders directly at (215) 467-1980.
Cheerleaders Philadelphia is awesome! I always have a great time there," said Tasha. "The girls are hot and sexy, and the clientele is great, so I hope everyone comes out to help me celebrate my birthday!"
Besides performing onstage, the adult superstar will be available for private lap dances, and is selling photos and DVDs. Among her recent titles are "Tasha's Pony Tales," "Tasha Reign is Sexy," "Streaker Girls," "Some Like it Kinky," and "Slumber Party Cupcake Sluts."
"I put in a lot of preparation into my dancing by practicing, exercising, and eating right, so each show is the best show possible," Tasha said. "That's why I get so excited when I get that great crowd response. I love it!"
A naturally skilled and gifted dancer, Tasha uses her enthusiasm, sex appeal, and beautiful body in her uniquely stylish and sexy performances – making her a favorite with fans across the country. Her most recent appearances have included upscale clubs like Cheerleaders in Pittsburgh, Diamond Royale and Diamond Lodge in Canton, Ohio, as well as many others in California, Florida, New York, Oregon, Ohio, and Pennsylvania.
Tasha hopes to meet as many fans as possible at her appearance, but for those unable to attend, Tasha's official website offers alternative ways to enjoy the star including movies, photos, and live web appearances. Find these and more at www.TashaReign.com or speak directly with her at www.CallTasha.com.
For more information on Tasha's feature dancing at Cheerleaders Philadelphia, visit here.