A new sex app with the not-so-subtle name "Bang With Professionals" aims to let you find which of your LinkedIn connections are willing to hook up with you.
The website for the app assures users that its services are "secure and anonymous;" co-workers will only know you're interested in hooking up if they are, too.
Apparently the app isn't available yet; a notice at the top of its website says "Coming soon." When we requested an invite from Bang With Professionals, we only got an email asking us to share the app with our friends.
The app's creators appear to have kept themselves anonymous, much like the creators of a similar app that launched last week called "Bang With Friends," which lets you find which of your Facebook friends are willing to hook up with you.
Although "Bang With Friends" was just recently launched, it seems to have already had some success.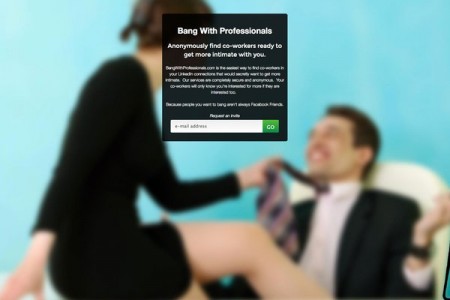 Mashable reported this week that more than 30,000 users — "mostly 20-somethings" — have already signed up for the app. In addition, users are flocking to "Bang With Friends" at a rate of five per minute (according to the anonymous creators of the site, anyway).
A poll on The Independent seems to show that people are willing to use apps like "Bang With Friends." As of Thursday afternoon, the poll showed that 66 percent of participants said they would use the app, while only 34 percent said they would not.
Citing an article from the New York Times, Slate pointed out that . Experts told the Times that at "many prominent tech firms," the percentage of female programmers is "in the single digits."
Will women use "Bang With Professionals"? We'll have to wait and see.