A couple of weeks back, adult performer turned talent agent Shy Love filed a lawsuit against Mark Schechter, the guy who purchased her old agency, ATMLA, and adult director Barrett Blade.
To quote Shy Love when talking about the no compete clause she signed: her lawsuit isn't worth the paper its written on…Unless, of course, you're Mark Schechter.
Outside of the legal action being outrageous, egregious, and preposterous, it does provide for spectacular reading. Even TRPWL gets a mention.
Shy alleges that Schechter fed information to TRPWL's Michael Whiteacre about Cameron Bay, and he then turned around and wrote a Shy Love slam piece titled "Shy Love Is Back to F*ck Shit Up: Introducing The VIP Connect". 
I take offense to her claiming my critically acclaimed story was written or sourced by Whiteacre… I'm going on record right now: Schechter wasn't MY source on the Cameron Bay stuff… Bay was. Specifically, her tweets telling the world she was going to work for Shy Love and that Shy was going to make her a star.  Shy, did your lawyer even look at the story??
Please refer to exhibit 434, below:


In the top left corner is says who wrote the story.  LOL  Whiteacre writes crap stories backed up with quotes, screen caps, court records/filings, and copies of accidentally found emails, and like the true educated Jew he is, he spells everything correctly and uses proper punctuation… Sean (that's me) rarely does that, mostly because I'm too lazy and find the rules of grammar to be overrated. Pretty much all of our million-plus readers can tell the difference between a Sean post and a Whiteacre post…With the exception of you and your lawyer…
I would like to ask you a question, Shy. You do know that when one files a lawsuit against someone who can afford to defend himself, the filing party is usually subject to depositions and discovery, right?  Sometimes, the person being sued even files a counter-suit alleging their own list of injustices..
Shy, you're going under oath..Sure you're telling everyone you have nothing to hide, but anyone who's been around you longer than a few weeks knows that's not true. Even worse, you've placed your roster in the cross hairs. Do you think YOUR people are gonna perjure themselves to save YOU??
Think about the girls you got from ATMLA…  I'm not gonna say any names, but rest assured when I say they will have to tell their story. Not to some random gossip blogger who reads Google Alerts and sources press releases, or even a 'lesser blog' like mine, but to a lawyer and a court reporter.
I would venture to say that possibly someone you know may be added to the counter suit. That person will have to lawyer up, and then that's when the good stuff starts. Hopefully, your "backer' will be willing to fund everyone.
The Shy-tanic
For those that don't know, Shy Love is alleging her new talent agency (apparently unlicensed in California and with a name that sounds more like an escort agency), The VIP Connect, has been blacklisted because of allegations that Mark Schechter allegedly made in a closed room.
Shy, did you ever stop and think about how filing a frivolous lawsuit would affect future bookings?  My sources (actual porn producers, not unemployable mopes like Rick Madrid) tell me they wont hire any of your girls now because they don't want to be drawn into your shit. Weird huh?
Shy alleges that Mark told people she cooked the books prior to selling ATMLA, and this has caused her to lose bookings for her girls.
Note to Shy… people hate your fucking guts.
Do you think when you became a source for a series of stories that slammed a guy who for the most part everyone likes, that somehow more doors would open for you? Do you really think that people don't wanna do business with you because you may or may not have cheated Mark?  Everyone knows what kind of person you are. That's why.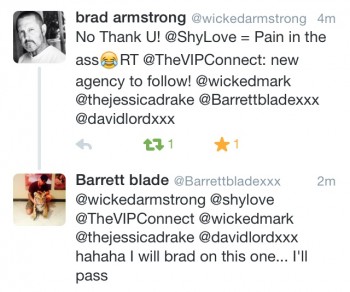 Derek Hay of LA Direct Models has some of the hottest girls in the biz, but, hes "blacklisted" by some because those people don't like dealing with him.. The best agent out there, Mark Spiegler, is even "blacklisted" by one studio. See Shy, people who don't like other people generally don't want to help the person they hate make more money…
FYI Shy, alleging you've been damaged monetarily opens all your fiances up to discovery… tax returns, business ventures, the works..
Welcome to the party
Shy Love is a bully. She bullied Schechter in the press, she bullied him behind closed doors and publicly, she might have got away with it had she not filed suit…
Now Shy is subject to the legal process, something a person like her ought to avoid at all costs…
To quote Major Benson Winifred Payne, "I think the party's just getting started"
My name is Sean, and I typed this post..