When Belle Knox, a 19-year-old Duke University freshman, was "outed" as a porn star in February, the conversation spread far beyond Duke's campus. A flurry of tabloid reporting placed Knox at the center of a media firestorm, where she was the subject of fascination, scorn, public shaming and threats.
Eloquent, educated, entrepreneurial and willing to speak her mind, Knox published public replies to her detractors, but even those replies were met with skepticism and scorn. Apparently, prurient concern for porn stars — well-meaning as it may seem — rarely includes listening when an actual sex worker speaks or writes about her experiences.
To move the conversation about women in porn beyond slut-shaming and stereotypes, two porn stars and one former porn star spoke to the Huffington Post about their careers, the porn industry and the public's misconceptions about what it's like to get paid to have sex.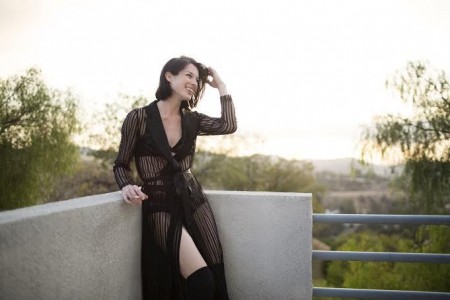 Stage Name: Stoya
Age: 28
Profession(s): Porn star and author
Why she started doing porn: "It sounded like fun." Stoya's first erotic photoshoot was an experiment: Her then-roommate took topless photographs for a living. After that, erotic modeling became a hobby: "I was a personal assistant for a guerrilla marketer in Philadelphia at the time. And in my free time I would go and people would pay me to take pictures of me." A pornographic production company that purchased some of her photos eventually recruited her for a softcore DVD.
What she likes about her job: "I get to show different sorts of sexuality and sexual tastes and acts in what I feel is a pretty freaking ethical and enjoyable way."
Problems she sees in the porn industry: Successful companies can be callous, cutthroat or sketchy, says Stoya. She objects in particular to Manwin (a.k.a. MindGeek), which owns a network of porn distribution sites including XTube, Pornhub and YouPorn. "They bought Digital Playground, and that's why I don't work for Digital Playground anymore. I just couldn't stand them."
How the "real world" treats sex workers: Stoya, who recounts being insulted and publicly called a "whore" at her sister's wedding, speaks sharply about how porn stars are treated in mainstream society. "I think the porn industry, ironically, can be much more respectful and consent-focused than the 'real world' is."
Giving back to the sex worker community: Stoya's on the board of APAC, the Adult Performer Advocacy Committee.