"BEFORE I even had a chance to open the door it was smacked open and I had a gun in my face."
Sarah had been a high-end escort for almost 10 years but never encountered anything like the quiet knock on her motel room door just before midnight on October 10, 2012.
A man, wearing black clothes and a balaclava pointed the pistol in her face, demanding the takings from the Melbourne-based sex worker's five-day trip to Adelaide.
"At the beginning I nearly passed out, I was so scared at seeing a gun for the first time in real life," she said.
"Knowing that it could all be over if he pulled the trigger, you have no idea how frightening that was."
Sarah — not her real name — lied that money was in a safe in the kitchen area of the North Adelaide hotel room.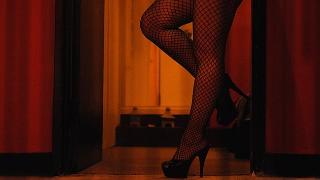 "I knew the money was in my wallet, but if I gave him that he would have my licence, all my details and know where I lived," she recalled.
Sarah tried to flee but the man dragged her back to the bed and pressed the weapon against her head, when she felt an electric tingle on her forehead.
"Something came over me at that point, I thought it was a taser or something but not a real gun and I knew that he needed me alive to get what he wanted," she recalled.
"So I started fighting back, and fell back on the bed and used my leg to shove him off and I just stood there and screamed and screamed and he ran out."
What Sarah didn't know was that she was at least the fourth sex worker to be confronted at gunpoint in a series of robberies of interstate escorts who came to Adelaide for four or five-day stints.
The bandit used a series of mobile phones and worked out when the women were due to leave Adelaide, so that he hit when they had the most cash.
On July 30, 2012 the masked bandit had yielded $9000 when he threatened an escort with the gun at her North Adelaide hotel room.
About 3.30am on August 20 he knocked quietly on the city hotel room door of a NSW escort who was almost finished a five-day stint in Adelaide.
The man took $7000 and the woman's iPhone. All he said was "Shut up, shut up. Money, money" and the robbery was over in 30 seconds.
Police were on high alert on September 14, when he struck again at the scene of his original holdup at North Adelaide, however became angry when she only produced $400.
The masked bandit hit the terrified young woman on the head, demanding more, before fleeing. About two-and-a-half hours later, as the woman hid in a colleague's room next door there were three knocks and a voice saying "you're next" before they called police.
Then, a month later he came knocking on Sarah's door.
Keep Reading