Starlets Ride Reality Porn Wave On Kevin Moore's 'Casting Couch'
What really happens at XXX auditions? In The Casting Couch, director Kevin Moore exposes the inside story with a unique technique that elevates Reality Porn to a vivid, new level. Security cam footage plus action captured on Moore's handheld camera create a voyeuristic view of what goes down behind the scenes of ambitious, sexy girls' meetings with an opportunistic talent agent. The new movie comes December 10 on DVD and VOD from Evil Angel; it can be previewed now in a trailer at EvilAngelVideo.com.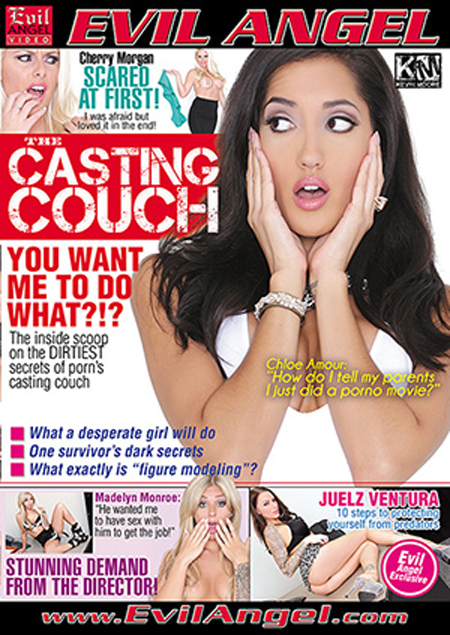 "Reality Porn is hot right now," says Justin Rich, Evil Angel's Domestic Sales Manager. "Fans like getting into the real lives of porn stars, not just seeing them have sex. They like a look behind the curtain. Kevin gives them that in The Casting Couch.'
We get to know porn newbies Madelyn Monroe, Chloe Amour, Cherry Morgan and established star Juelz Ventura as the various cameras catch their interviews. Each arrives in sexy attire and gets naked to show off her body and moves. We get to see them discuss their XXX ambitions, sexual histories and the acts they're willing to perform on camera.
"The most important thing was to find the right girls," according to Moore. "I needed hot sexual performers that could let go and use their own personal experiences. There's variety to the scenes because Madelyn, Chloe, Cherry and Juelz all brought different attitudes, but each was her real self. The movie is sexy because these girls were able and willing to show their real personalities."
When the arousing discussions and sexy shenanigans inspire lewd response from the agent, these young professionals know how to take advantage … with wet blow jobs, hot fucking and cum facials that prove their talent and attitude. The security cameras show truly naturalistic action, while Moore's handheld camera provides up close, POV-style footage.
Young (22), tanned Monroe is nervous at first, but Moore says the natural-breasted blonde becomes "a lusty dynamo." Not nervous is exotic, dark-haired Amour, a 23-year-old Texan. After telling about her private sex life (she's done a threesome and a home porn with her boyfriend; she fantasizes of getting caught masturbating), the flirty, confident Amour knows how to handle a randy agent: "I'm a very eager girl," she says, and she proves to be a porn natural. Busty blonde Cherry Morgan tells wild tales in her Tennessee accent — back home, her nickname was "Head Whore"! She masturbates a lot, watches porn ("My favorite is like gang bang shit,") and reveals to the agent that she's turned on by being taken advantage of — hot Cherry is ready to make movies. Bodacious Ventura sees the agent about feature dancing, and she shows that interview skills are not essentially different from lap dance moves.