VENICE, CA – All eyes are on Alexia Vosse as she makes her transition from a girl/girl-only performer (named Lauryn) into the richer territory of boy/girl shoots. Appropriately, she just did a shoot for Hustler titled Crazy Rich Bitches that will feature one of her first scenes with a guy.
She works with Tommy Pistol in the movie, with Tommy playing an employee at a store where Alexia likes to shop. She's a big spender at the store and she knows they want to maintain her as a customer so she starts making demands – and Tommy really does want to keep her happy.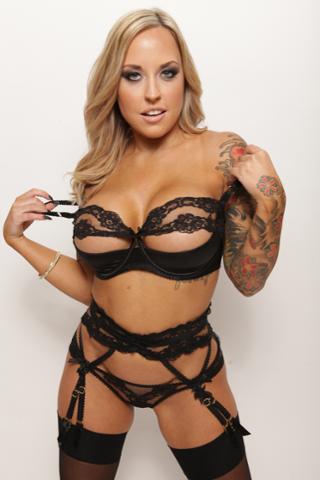 "I know I'm one of their best customers," Alexia says of the scene. "I use that to my advantage and tell Tommy he needs to fuck me or I'm not going to shop there any more. He was a real loyal company man and treated me really well. The customer is always right!"
She also just worked with Will Powers in a shoot for Zero Tolerance that will be found on www.1000facials.com. She also shot for http://kin8tengoku.com/ this week.
Alexia stars in Big Wet Tits 14, which just came out from Elegant Angel. Last week Brazzers debuted Alexia in "This Young Slut" with Keiran Lee, which was the first opportunity many fans had to see her work with a guy and it's been a huge hit on the site. It also shows the first time she ever squirted. Check out her Brazzers work at www.brazzers.com/profile/view/id/2395/alexia-vosse/.
Her official website launches July 1. On May 28 Airerose Entertainment will release the first-ever Alexia boy/girl scene available on DVD.
Alexia's official website is www.AlexiaVosse.com. Follow her on Twitter @AlexiaVosse. She can be booked through 101 Modeling at www.101modeling.com/site/talent/talent.php?t_id=843&pageType=profile. For everything Alexia go to http://risingstarpr.com/clients/alexia-vosse/.