Romantic Comedy 'Behind the Scenes' Gives POY Bust-Out Opportunity
VENICE, CA – Anikka Albrite may be best known for her sex scenes – being the Triple-Crowned Female Performer of the Year it is clearly difficult to do anything better than she does sex – but she's also proven to be a smooth operator when given the chance to take roles that call on her thespian skills.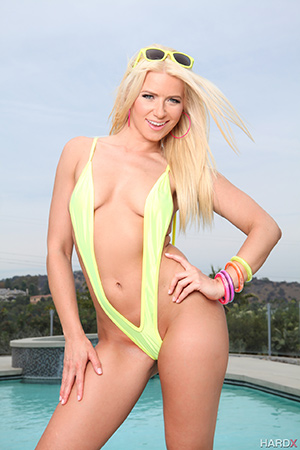 With a starring role in Stormy Daniels' new Wicked feature titled Behind The Scenes, Anikka relishes in the opportunity to flex her acting muscle in the romantic comedy. She explains her role like this:
"I landed a role on a tv show, hoping to make it my big break," she said. "In the process, I fell for my co-worker [Ryan McClane] and had to deal with my jealous and unsupportive and lazy boyfriend [Jay Smooth]. I love becoming different people when I shoot a feature. This romantic comedy has been one of my favorite feature movies to date!"
"Anikka plays the new lead," Stormy told AVN last month. "She comes onto the show, and pretty much, the guy who was anti-bringing on a female character is immediately smitten by her and tries to convince the writer of the show [Masterson], to write in a love story for those two, and they end up falling for each other on-camera and off-camera.
"In our story, Anikka is an actress known mostly for not being taken seriously; being a scream queen, a B-movie actress," Stormy continued. "She's got a boyfriend who clearly is just along for the ride, who's played by Jay Smooth, and her uncle is a producer on the show, and that's how she gets the part, which is why everybody is anti her coming on at first, but she actually turns out to be a fantastic actress, and the show gets picked up for another season."
Anikka has sex scenes with Smooth and McClane. Behind the Scenes is in stores now.
Anikka also stars in Mother Daughter Spa Day (All Girl Massage), which releases this week. Her next feature dates will be July 7-11 at Blush in Pittsburgh.
Read the feature on Anikka and her husband Mick Blue in the June 2015 issue of British GQ at http://www.gq-magazine.co.uk.
Follow Anikka on Twitter (@AnikkaAlbrite). To book her contact Spiegler Girls at www.spieglergirls.com/html/anikka.html. For everything Anikka go to http://risingstarpr.com/clients/anikka-albrite/.