Looking for a Great Tip? Word on the Street Is That Ashley Is the Greatest!
VENICE, CA – It's the time of year when we want to cool off and Ashley Sinclair has just released a new video that will have you looking differently at your friend's pool when you go to the next barbecue.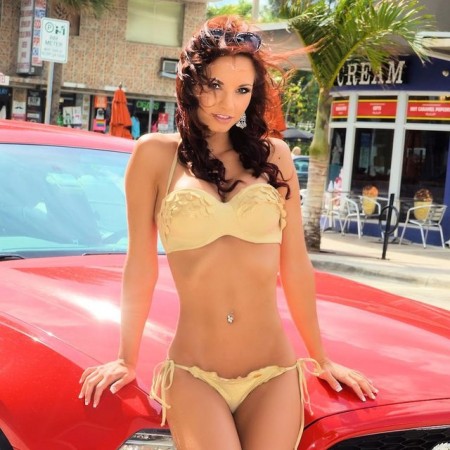 Ashley recently moved into a new house and she was particularly excited to break in her new pool. Even when she first looked at the house she was fantasizing about the pleasure it would bring her and she has not disappointed. This week fans have the opportunity to check out Ashley in a sexy underwater masturbation scene.
Ashley strips down in the pool, begins masturbating herself and then gets a little help from her friend in the form of a two-finger salute. With Ashley bent over and asking for it, she is quickly able to cum on his digits.
Check out her new underwater video (and much more!) at http://clubsinful.com.
The conversation on a recent Topix.com conversation recently turned to Ashley and it turns out she's something of a local celebrity. One poster said he was part of the moving team that got her into her new house and that she was very impressive in person – and not just because she tipped everyone enormously!
"I worked for the moving company that moved her things from her lake house to the mansion she lives in now," says a poster from Johnson City, TN. "If I had to guess I would say it is about a 4 million dollar house. It has a 10 car garage, a separate pool house, 4 or 5 ponds/fountains, its gated and sits back off the road. It looks Italian with a fountain out front and a 20 ft flag pole. It's hard to miss. it looks like a mansion you would see in Beverly Hills but it's in podunk Tn. I got to meet her briefly when she came to inspect everything. She was very nice. She seemed very reserved and quite but tipped each of us $250. If you met her you would probably never guess she is a famous porn star. Several people I know have spotted her out and about in the tri-cities. I've only seen her once. Everyone says she always has security with her or it may be her big boyfriend or something. Look for a Red Hummer H2, a Black Dodge Challenger, or a White RangeRover in East Tn and it might be her being driven around to wherever she wants to go. She may have other vehicles but those are the only ones I saw."
You'll see some of those things and more when you check out Ashley's videos – including the new underwater finger-fuck – on www.ClubSinful.com.
Ashley was recently named Sexiest Adult Starlet at the Alt Awards and Crossover Performer of the Year at the 2015 Cammy Awards.
Fans looking for the latest and greatest of Ashley's fetish work can go to http://www.ashleyandfriends.com. Contact her directly at AshleySinclair69@yahoo.com to discuss your custom fantasy video.
Ashley's new company is @MySecretPayment and the website for that is www.MySecretPayment.com.
Fans can now text Ashley – including pics and text messages – via Dream Lover. Go to http://www.dreamlover.com/ashleysinclair to connect with her. Ashley produces custom fetish content where the fan is the director. Contact ashleysinclair69@yahoo.com for information. Check out her websites, www.ashleyandfriends.com and http://clubsinful.com.
For everything Ashley go to http://risingstarpr.com/clients/ashley-sinclair/. For up-to-the-second updates, follow Ashley on Twitter (@AshleySinclair0).