The Autoblow 2, an electronic robotic male masturbator, has raised over $230,000 from more than 2100 men in 25 countries on crowdfunding site Indiegogo.com. With days still left in its Indiegogo campaign, the Autoblow 2 has beaten the adult toy crowdfunding record by over $65,000, and exceeded its original funding goal by over 500%. To view the campaign, please visit: https://www.indiegogo.com/projects/autoblow-2-a-realistic-robotic-oral-sex-simulator-for-men/x/5153216.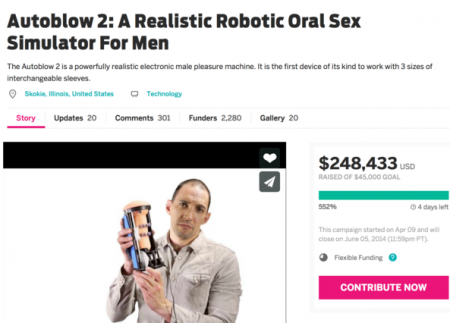 "I'm really humbled by the outpouring of support from all over the world for our product.  Our whole team is super happy to know that soon, tens of thousands of men will having more realistic masturbatory experiences", said Sloan.
Contributors can now opt to attend the official Autoblow 2 commercial shoot – featuring adult stars in both NSFW and SFW promo footage. Guests will be privy to an intimate adults-only film shoot including airfare and accommodations within the US. To learn more about this exclusive offer, please visit the Autoblow 2's Indiegogo campaign and read about the $2999 perk.
The Autoblow 2 will deliver a series of firsts in the male toys niche. It will be the first electric stroker (it plugs into the wall), the first stroker to work with 3 sizes of removable sleeves, and the first mechanized male pleasure product built to last for years. The motor is rated to last over 500 hours, or about 1500 solo experiences.
Educated as a lawyer, Sloan's creative side won out, and in 2007 the Chicago native moved to Beijing, China to pursue new business opportunities. Since moving to China, he has created the Autoblow, Mangasm and Ladygasm brands of adult toys. The Autoblow 2, he says, will set a new benchmark for quality and realism in the male toys niche.
For more information, please visit: http://igg.me/at/theautoblow2/x/5153216