A new online service called BateFlix is setting out to locate the best nudity available on Netflix.
The recommendation engine allows users to search the Netflix database for movies containing nudity, sex scenes, masturbation and more. Users can narrow the results by year, MPAA rating and Netflix rating to find what the site promises is "the best porn on Netflix."
The website, which Venture Beat calls a cross between Instant Watcher and Mr. Skin , uses an API to search the Netflix library. The BateFlix creator told the blog that the site was created in an effort to learn PHP and HTML.
Users who are undecided about their genre preference can opt to use the website's random recommendations to receive a list of suggested movies. The "latest reviews" page also offers a list complete with pithy commentary regarding the sexual nature of each film.
Despite BateFlix's promise of "porn," WebProNews' Josh Wolford points out the pledge falls a bit short.
"For one, watching an entire movie like 'Black Snake Moan' for the nudity/sex is like reading Catcher In The Rye to hear someone say some bad words. There are definitely better options," Wolford writes.
Although the future of BateFlix remains to be seen, Netflix itself is no stranger to raunchy recommendations.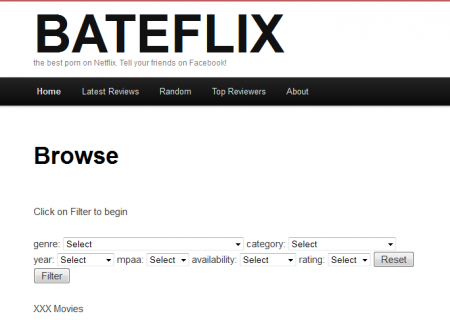 Last year, a father named "Dan" wrote to Consumerist to report Netflix had suggested a porn documentary while he was searching for "Feel Good Movies" to watch with his son.
Dan told the blog that "Naked Ambition: An R-Rated Look At The X-Rated Industry" appeared between kiddie suggestions for a "Rugrats" movie and a Leap Frog animation.
Netflix executives recently announced the company is working to create better user experience for subscribers using the service's recommendations.
Check out BateFlix for yourself.
Source: HuffingtonPost