Hard-working New Yorkers appear to be yearning for their carefree youthful days, with 'college' being the most often searched for term when looking for porn clips on the Internet.
While other states look for more kinky footage, New Yorkers appear to be playing it safe with college as the number one search in the state, followed closely by massage, according to adult website PornHub.
The website compiled a list last week of the top three search terms in each state.
One New Yorker tried to make sense of the tame search for massage in a city where nearly everything goes.
'We're around a lot of people but not actually getting touched … It's hard to have a relationship in New York,' Nora O'Hara, 24, told the New York Post.
In the Bible Belt popular searches included hot moms or 'Milfs', 'Big Gals' or 'big beautiful woman' and other terms not fit to print in a newspaper.
'Teen' was a popular search in several states, including Texas, Oregon, South Carolina and Missouri, according to the study.
Other states, including California and Washington, opted for 'Asian' while those in Kentucky favored the more specialist hentai, based on Japanese cartoon pornography.
In Nevada, the research showed the website's users to be more faithful, with searches singling out one particular star of adult movies – Anita Queen.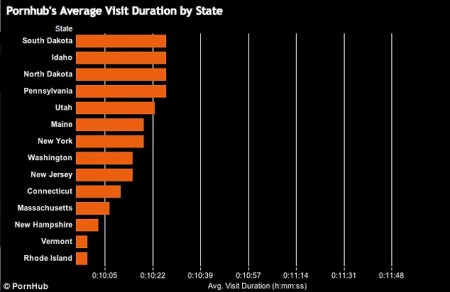 The adult website that carried out the research also released information on how much time the average user spends on the site.
Those in Missouri liked to take their time, spending an average of 12 minutes looking at the site but while it wasn't quite a New York-minute, those living in the Empire State were among those who spent the least amount of time on the site, at 10 minutes.