If you're a Christian anti-porn crusader, what better way to mark the two-year anniversary of the wild night Ron Jeremy autographed your augmented breast at a porn event than by conducting a "Sex Seminar" at a Bakersfield senior dining buffet?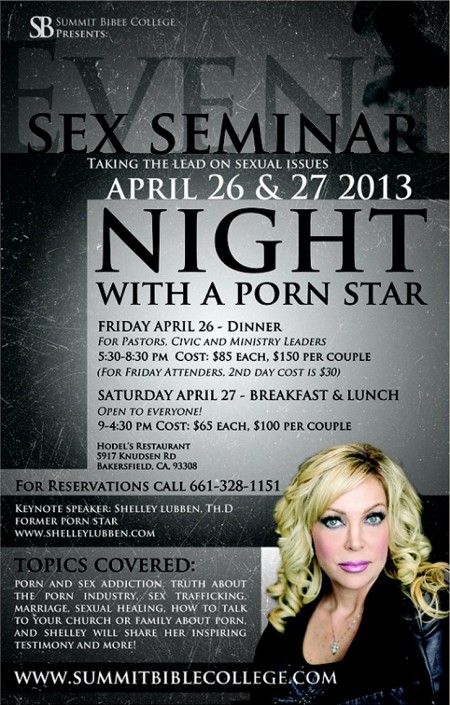 The event, "Night with a Porn Star", will be hosted by self-styled "Rebel Prophet" Shelley Lubben on Friday, April 26, 2013 at Hodel's Country Dining, a Cracker Barrel-type restaurant just off the highway in north Bakersfield, and presented by Summit Bible College, the local school where Shelley – who previously held only a diploma mill degree from an unaccredited online "university" — managed to earn both a masters AND a doctorate in about a year's time.
Shelley Lubben has become the latest personality to embody Jerry Lee Lewis' classic lament, "I've fallen to the bottom, and I'm workin' my way down."
As first reported here, on the night of April 26, 2011, while her husband, Garrett, was home in Bakersfield, Lubben attended a Burbank Porn Star Karaoke benefit clad in an extremely revealing strapless dress. Witnesses reported that Lubben made an inordinate number of trips to the ladies room, and acted intoxicated and manic.
A photographer caught Lubben having her breast signed by Jeremy, the hirsute porn legend famous for being able to suck his own penis, outside the bar's toilet – and later that night she placed the winning auction bid for a "date" with him.
One witness at PSK reported, "There was something decidedly WRONG with her that night. She bid $400, then $500, then $600 on the Ron Jeremy date without intervening bids."
Cell phone videos from that night showed Lubben dancing lasciviously, and hanging on Jeremy outside Sardo's Bar with her pupils seemingly dilated.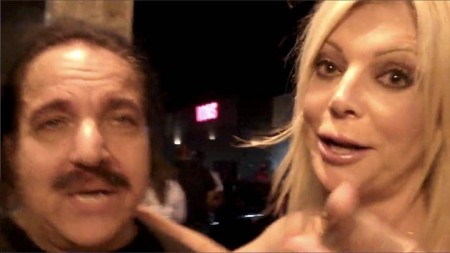 It was a night from which Lubben's reputation would never recover. Seven weeks later, adult performers – Lubben's claimed constituency — loudly mocked her for her wild night at PSK when she turned up at a Cal/OSHA meeting in Los Angeles. Before summer's end, Michael Weinstein of AIDS Healthcare Foundation, sponsor of her disastrous Cal/OSHA appearance, dumped Lubben from his anti-porn industry crusade.
When Lubben lost her benefactor, she lost her free ride in the mainstream media.
Lubben's PSK debacle came eleven Aprils after her proclaimed "sobriety date" – April 9, 2000 – after which, she maintained, that despite never completing a 12-step program, she had been "healed" of all her addictions and cravings by God almighty. Yet, videos often caught Lubben seemingly under the influence of something – unsteady on her feet and speech slurred – and several ex performers recalled seeing Lubben drink or smelling alcohol on her. And then, five and a half months after that fateful PSK, two women who had been associated with Lubben for several years, Michelle Avanti and April Garris, asserted that Lubben regularly abused alcohol and prescription pills, (a charge Lubben did not deny to LA Weekly in June 2012, after drinking in front of the reporter).
Another April
It took Lubben a year to come up with an excuse for the damning boob signing photograph: in April 2012, she claimed that, without warning, Ron Jeremy had walked up and signed not her breast but her clavicle, and in response she "just froze and looked up to God for help."  Nevermind that another photograph shows Jeremy chatting with Lubben, in exactly the same spot, prior to the signing, or that the incriminating photo clearly shows him writing on her breast – several inches below her clavicle — while Lubben wears a smile on her face.
Lubben's fortunes didn't improve in 2012. Her ex-drug dealer husband, Garrett, lost his six-figure a year job in October and has been unemployed ever since.  With two kids in private school in Bakersfield, an older daughter in a private college in Pennsylvania, and a mortgage to pay on a $480,000 McMansion, the pretense of being a charity worker has fallen away; the couple has been attempting to re-brand themselves as a porn-fighting minister duo, and Lubben – now billed as "Shelley Lubben Th.D" — has been eyeing paid speaking engagements.
Lubben's latest speaking gig (priced at $85 person, $150 per couple, and targeted at "Pastors, Civic and Ministry Leaders") is roughly the equivalent of evangelical dinner theater — sex ed for seniors on the Cracker Barrel circuit. Lubben has also scheduled a seminar the following day, for the breakfast and lunch shift ("Open to everyone!" at $65 per person, $100 per couple) that she is also offering online as a (paid) webinar.
The topics 'sexpert' Lubben plans to cover in her "Night With a Porn Star" seminars include: Porn & Sex Addiction; Sexual Healing; How to Recover from Porn; Porn Industry Statistics: the Truth About the Illegally Operating Porn Industry [sic]; How to Talk to Your Church or Family About Pornography; Healing for Marriages, How to Lobby Against Porn. Lubben notes, "of course I will be sharing my amazing testimony!"
An intriguing pitch from a woman who admits she never attends church because her cult-like group, Pink Cross Foundation, IS the true church ("We are the church!" she shrieked in January 2011, "we take the church OUT!"); who for years has had no relationship with her own blood family (who maintain that Shelley has falsified and distorted her life story); and who, according to Pink Cross insiders, spent time in a psychiatric ward in February 2011, and in a rehab facility later that year.
And, of course, it begs another question, posed by a stunned Facebook commenters: How can someone who still self-identifies as a "porn star" nearly twenty years after her insignificant career in adult entertainment speak of healing?
"If that's her only identity, even after all these years," one commenter noted, "she hasn't 'healed.' Where is the 'new creation in Christ'?"