Multi-award winning adult actress Tanya Tate announces an exciting new t-shirt line. Fans of Tanya will be able to represent the Liverpudlian sex star wherever they go. The stylistic shirts feature Tanya Tate imagery and were designed for fun and casual wear.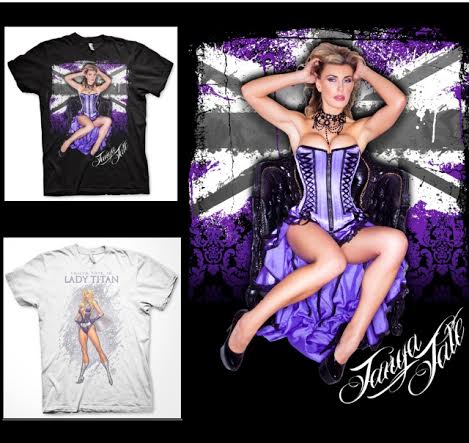 "I wanted to create something that fans could wear in everyday situations," said Tanya . " While there is a sexy element to the art, it's not outrageous. My shirts may be worn whether one is going to a night club or comic convention."
There are two styles of the Tanya Tate shirts currently available. The Tanya Tate " Royalty " shirt is a comfortable black t-shirt that features an image of Tanya in a body hugging purple basque. She shows off her luscious long legs and of course, lots of cleavage. Behind Tanya is a stylized Union Jack representing the United Kingdom. On the back of the shirt there is a small Tanya Tate logo at the nape of the neck.
Most of Tanya's fans know her as a popular cosplayer that has created her own superhero, Lady Titan ! Now her character is showcased on an awesome t-shirt that features the promotional art for the coming comic book. The shirt is white with the image of Lady Titan on the front while on the back of the shirt sees the Lady Titan logo at the nape of the neck.
Both styles of Tanya Tate t-shirts are available in men's sizes small, medium, large and extra large. Currently Tanya is offering a special package that consists of a choice of t-shirt, and autographed DVD and two autographed 8 x 10 photos on her online store. The shirts and other Tanya Tate memorabilia may be purchased from the TanyaTateStore.com .
The first wave of Tanya Tate's official t-shirt line is in-stock and available now!
For more Tanya Tate please visit the Tanya Tate network:
www.TanyaTate.com
www.JustaLottaTanya.com
www.TanyaTateStore.com
www.Twitter.com/TanyaTate
www.ItsMyUrls.com/TanyaTate
Tanya Tate self represents and can be booked direct:
www.BookTanya.com
For more pictures of Tanya Tate please click here:
www.starfactorypr.com/Tanya_Tate.zip