Brothel patrons have no expectation of privacy, a Maine judge has ruled while dismissing 49 criminal counts against a man accused of secretly filming illicit sexual encounters at his Zumba studio that authorities claim was a bordello.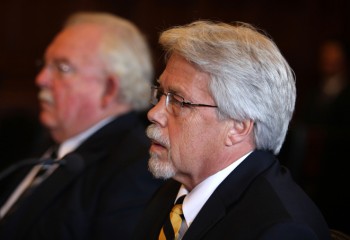 A local judge dropped the counts against Mark Strong, Sr., who was accused of breaching the privacy of those who paid to have sex with his female business partner at a Kennebunk, Maine dance studio he managed.
The 57-year-old defendant's attorney, Dan Lilley, successfully argued that the state law protecting the privacy of people in dressing rooms, locker rooms and restrooms did not apply to those having illegal sex with a prostitute.
That law, Lilley argued, "does not apply to bordellos, whorehouses and the like." He said "those places are to commit crime. There is no expectation to privacy."
The judge, Nancy Mills, agreed on Friday. "These patrons may have had a subjective expectation of privacy, but I can't find an objective expectation of privacy that society would be willing to accept," she said in her ruling, according to the Portland Press Herald.
Local prosecutors appealed to the state's top court.
Thirteen other counts remain accusing Strong of promoting prostitution by allegedly turning the Zumba studio into a one-woman prostitution house.
The alleged prostitute, Alex Wright, 30, has pleaded not guilty to 106 counts connected to prostitution, including the same 46 charges that were dropped against Strong.