Los Angeles, CA – BurningAngel.com and Century Media have teamed up to unleash a brand new xxx-rated hardcore music video, for Gift Giver's "Hell Hound" on Tuesday, June 23rd.  Running alongside this filthy-hot video exclusive that features BurningAngel starlets Jessie Lee and Scarlet LaVey, will be an in-depth interview conducted with the band by Jessie herself.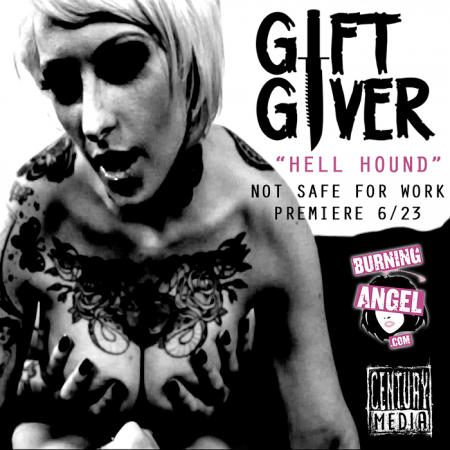 "This exclusive release is really exciting, and I know our fans will truly appreciate it," says Joanna Angel, founder of BurningAngel.com.  "Music and punk-metal culture has always been an important part of Burning Angel and this fusion of hardcore girl-girl sex and an aggressive song is a match made in metal heaven."
Gift Giver is the latest uncompromising, no-fucks-given gang of hard-living party animals to emerge from one of the world's most notorious urban landscapes, Detroit. Alice Cooper, MC5, Iggy & The Stooges and iconoclastic controversy magnet Madonna are just a few of the firebrand rabble-rousers birthed in the fertile soil of Michigan, which famously gave the world the middle-fingers waving Eminem and Kid Rock, as well. Gift Giver front man Justin Johnson delivers his nihilistic diatribes with a bottom heavy, throaty power infused with an electric hip-hop style cadence, while cofounder and guitarist Nick Miller brings a technically minded proficiency to Gift Giver's nü-metal revivalism. Eric Snapper (guitar) and Jake O'Shaughnessy (drums) round out the lineup, packing each Gift Giver song with a power to get the blood moving as quickly for fans of Veil of Maya, Meshuggah and Emmure, Sworn In and Attila.
"We wanted to release the video on BurningAngel to contribute to a badass website," says the band.  "Jessie Lee sparked the idea with us when we met in California this past spring. We've never heard of another band doing something like this and it seemed like an awesome opportunity to share our love for babes & heavy music!"
More info about Gift Giver can be found at www.giftgiverband.com.  Direct link to the NSFW video, here: http://www.burningangel.com/en/video/Gift+Giver+-+Hell+Hound/76774
ABOUT JOANNA ANGEL AND BURNINGANGEL
Pushing the envelope, the BurningAngel Empire is a refreshingly unique web cocktail of sex, rock n' roll and pop culture. BurningAngel.com launched in 2002 with a few sets of photos and a band interview, conceived by two amateur college kids from Rutgers, Joanna Angel and Mitch Fontaine. Since its launch, it has exploded into a fierce indie company that has pioneered a new species of erotica known as "alt porn," with a network of websites and hundreds of DVDs to its credit.
The company is revered for popularizing alternative style girls, and prides itself on delivering hardcore adult content alongside band interviews, record reviews and a community with its own social networking. As both the star of many of BurningAngel's movies and the company's spokesperson and owner, Joanna Angel has stormed both mainstream and adult media. She's appeared on the cover of every major adult magazine (AVN, Club, Hustler, Picture Magazine, Adam Film World and Xtreme, to name a few) and has been featured in many tattoo magazines as well (some include Prick, Taboo, Inked and Savage). She has been featured on Fox News, Playboy TV, Fuse TV, G4 TV, KROQ Radio, as a regular on the Jason Ellis show on SIRIUS Radio, a guest on the 2008 series premiere of TLC's LA Ink, and in a speaking role on Adult Swim's "Children's Hospital."
Angel has also appeared in The New York Times, Newsweek, The Village Voice, The New York Press, Esquire UK, Details and Penthouse, among others. Heeb Magazine featured Joanna as its cover girl, naming her one of the Top 100 Up-and-Coming Jews in 2005, The New York Post featured her as one of the Top 25 Sexiest New Yorkers, and Playboy.com named Joanna Angel one of the 50 hottest adult stars on Instagram.
She's also made her mark in the sex toy world, becoming a venerated Fleshlight Girl in 2013 and creating a BDSM line of toys with Stockroom. The same year, she made further strides into the mainstream world with a speaking role in the indie drama Scrapper. BurningAngel has brought home several awards from all the major adult shows—from AVN to XBIZ, to XRCO to YNOT. Some of its accolades include Best Porn Star Website, Best Web Premiere and Best Sex Comedy. From a college dorm room to national television, BurningAngel has made a mark in entertainment, and it's only just beginning.