A Cindi Spiegler aka Fake Doctor Cindi investigation:
There's a semi-popular gal on Twitter named Angelina Capri. She describes herself as a squirt queen, stripper and model among other occupations, both adult and non-adult. Several of my followers follow her as well.
She even has a listing on the popular FreeOnes website linking to various social media accounts.
In addition to being a porn starlet, pro wrestler, nurse, and med student, she is also a singer who has been signed to a record label: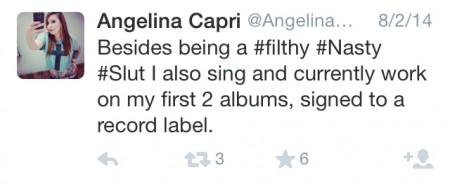 She's also a kick boxer who webcams and does live strip shows…
And a professional mainstream model who was recently hired to do a tourist promotional shoot for the state of Hawaii Tourism Authority.

Quite an accomplished young woman. There's just one problem. The girl in the photos? She was a dancer on the East Coast who went by the stage name Christy Peaches.
Christy took to Twitter this summer to expose this Angelina fraud. She even uploaded a few videos (NSFW language) to YouTube on Thursday.
The "catfishing" impostor claims to have performed in gang bangs and "Fuck-A-Fans" but these is no visual record of any of this. I consulted with several people I know who watch a lot of porn and have way too much knowledge about it, and nobody has heard of Angelina Capri.
How could it be that a young woman who claims to be a porn star/pro-wrestler/nurse/med student that shoots gang bangs every week in Los Angeles has not a single verifiable person to step forward and say she's real?
This is a woman who supposedly went to ComicCon dressed as Cat Woman but didn't take a single pic.
There is now an Angelina Capri website set up with registration info in the Netherlands — the same place Freeones lists as Angelina's birthplace. The plot thickens.
More to come….