"We appreciate this may have caused some frustration but we're not in a position to flip-flop on the policy," said a Qantas spokesperson.
Estelle Lucas, "Melbourne's finest private escort," was denied entry to the Qantas Club lounge on April 1, but not for the reason you may think.
Lucas, who turned up in "thongs," (also known as flip flops), was banished from the exclusive lounge.
Lucas detailed her running battle with Qantas on Twitter as she tried to enter the club before boarding a four-hour flight to a science fiction convention in Western Australia.
Twitter was gripped by the drama as it unfolded: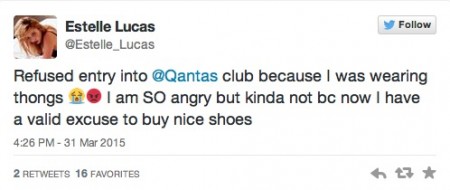 However, Qantas was there:
Estelle Lucas' pain continued when she later got into a taxi…