You Study What (Volume 2) available NOW, exclusively on Amazon.com!
Los Angeles, CA (January 21, 2014) – Sociologist Chauntelle Anne Tibbals, Ph.D. is pleased to announce the release of her book You Study What? One Sociologist's Journey through Sex, Society, & Adult Entertainment (Volume 2).
Each installment of the You Study What? series is based on Tibbals' scholarly work in and around the adult industry. In each volume, "Dr. Chauntelle" shares her personal experiences, providing a window into a world that's shrouded in mystery… but is ultimately no different from any other.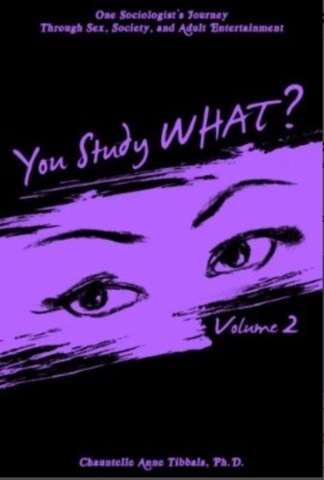 "I've had some fun adventures and have seen some pretty interesting things over the years," Tibbals shared. "But a lot gets lost when you're translating everyday observations into scholar-speak. I'm excited to share some of the more personal experiences that have informed my academic work."
There are five stories in You Study What? (Volume 2), including "Disco Dolls in Hot Skin," about the first adult film Chauntelle ever saw. There's also "Don't Ass-fuck the Blowbang" and "…on why I can't say 'Tranny Awards,'" both regarding personal struggles that sometimes occur between the norms of scholarship and the world of porn. Dr. Tibbals also discusses "Academic Snubbery" – a tragic tale of mean girls and research rebuked – and takes us "On Set." (it's not as exciting as you'd think)
Volume 2 includes an additional Bonus Chapter, "The Real 'Linda Lovelace' (née Boreman, née Marchiano)," a biographical look at the world's first porn star.
"The only 'complaint' I received regarding Volume 1 was that it wasn't enough – readers wanted more," Tibbals stated. "I've always felt that people would be interested in this sort of perspective on the adult industry… so here are six new essays to help satisfy that need!"
Get you copy of You Study What? (Volume 2) exclusively on Amazon.com.
And if you don't have a Kindle, don't fret – you can download a free Kindle app for your computer, tablet, and/or smartphone in your device's respective app store.
For more information on the You Study What? series, contact Chauntelle Tibbals at chauntelle.anne.tibbals@gmail.com
You Study What? (Volume 1) has received enthusiastic responses from consumers and reviewers, calling it "insightful," "eye-opening," and "lighthearted and fun" – "a fresh light on what we watch in the dark"!
Get you copy of You Study What? (Volume 1) exclusively on Amazon.com.