Director Deborah Anderson, a celeb and fashion photographer, earned acclaim for clicking celebrities. George Clooney and Elton John were among the famous faces in her 2009 book, "Room 23," which chronicled a year in the life of a Beverly Hills penthouse suite. Later she wondered, "What can I do to top that?" says Anderson, whose work has graced the pages of everything from Vanity Fair to Playboy. "Then I thought, let's get even more intimate."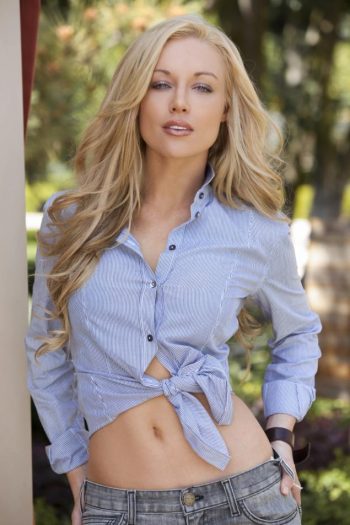 The result? "An under-the-covers view of women in the porn industry." That's how Anderson describes "Aroused," her new photo book and documentary, opening today.
A naked discussion about the adult film industry featuring, well, naked people, "Aroused" looks at how these actors, often deemed victims or fringe performers, see themselves.
"I didn't get into [porn] because I was desperate," superstar Kayden Kross says in a discussion with the Daily News about the project.
"I got into it because I was bored. I had an education, and nothing else appealed to me like this. I'm not going to lie or be ashamed. I like the money. I like perks. I like … sex!
"I was always a very sexual person, and this offered me an opportunity to make a pretty good living using that," Kross says. "What I wanted to do far outweighed any worries I might have had about what people thought."
Allie Haze, who like Kross has risen to the top of her profession, agrees
"What we do is so out of the normal comfort zone," Haze says. "But we work with people who can appreciate what we're doing and enjoy it just as much. So the boundaries are endless. There's nothing more exciting."
Anderson says she was impressed by the strong women she encountered in a world normally associated with small brains and big implants.
Interviewing 16 of the top female names in porn, the director got them to reveal much about their lives, dreams and struggles. And to keep things interesting, each of the women shot her interview nude, save for a pair of high heels.
"I wanted to trim away their peacock feathers and show the real girls underneath," says Anderson. "By peeling away these women's personas, I show that there is a human being behind the characters they play. And these human beings revel in their sexuality. That's something everyone can learn from."
Porn stars, Haze insists, "aren't that different from other people, apart from the fact that we are so open about our sexuality, and that's a healthy thing.
"Adult performers are always interested in being seen and heard by mainstream audiences … I'm always open and honest. I'm not afraid to say anything about my sexuality.
"I talk about this stuff all the time. The difference with 'Aroused' is that a whole new audience could learn something from us."