LOS ANGELES, June 17, 2015 — Pornographer Jonni Darkko lives at the intersection of cinematic glamour and shameless feminine filth. His next release lives up to his reputation for graphic oral mayhem, putting viewers in the crossfire of big boob worship and messy titty fucking. "POV Juggfuckers 6" comes July 1 on DVD and VOD from Evil Angel, and can be previewed right now in a sloppy trailer at EvilAngelVideo.com.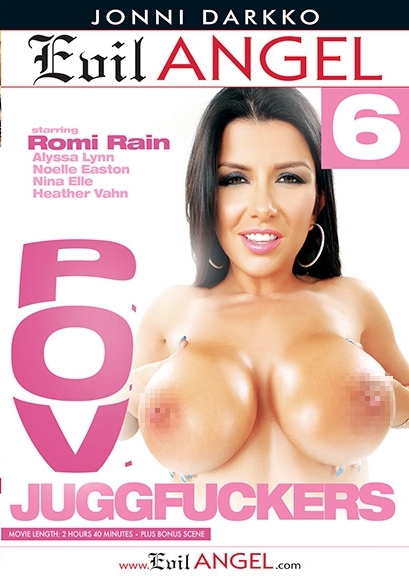 "On this movie I shot a lot of slow-motion footage with all kinds of fluids," says Darkko. "Milk, oil, slobber and cum … fun with tits!"
Darkko presents each busty babe in her glam glory before defiling her fleshy fun bags with greasy dicking, followed by a cleavage climax or cum facial. Viewers get the perspective of the lucky stiff between the bosoms via Darkko's expert POV-style camera work.
"POV videos remain popular in the marketplace, and Jonni's oral movies always deliver," notes Justin Rich, Evil Angel's domestic sales manager. "The 'Juggfuckers 6' box cover sets the tone — it's like Romi Rain is begging customers to dive into her cleavage."
"Romi is completely amazing," raves Darkko, who says his cover girl's scene is "almost like a party in a pastry kitchen." The brunette beauty pours oil all over her big, jutting globes and wallows in whipped cream, which she licks from her nipples. She slobbers onto her boobs in a deep-throat blow job.
Massively voluptuous, red-haired MILF Alyssa Lynn models bikini tops that can't contain her mighty melons. "Alyssa has massive mammaries that are so fun to fuck!" Darkko gushes. "They get so tight when she squeezes them together." Lynn's full, BJ lips suck Darkko's prick as it plunges through her bosoms, and semen splashes her from tits to hair. After that, she shows up in a "POV Juggfuckers" bonus scene. "I put her in the movie twice 'cause her boobs were so amazing," says Darkko.
Exotic, gorgeous Heather Vahn's bikini pushes her big, natural jugs out front. There's a greasy titty fuck, and she freezes her nipples with an ice cube. "Heather has the sexiest nipples," reports the director. "Loved watching her play with them and pour milk all over them." When those thick nubs don't get enough attention, Vahn sucks them herself. "She begged me to cum on her face," says Darkko. "Not a problem at all, Heather."
Cute, tattooed Noelle Easton's hefty, oiled, natural knockers wrap around Darkko's meat to make it disappear, and heavy tongue piercings tap his shaved scrotum. In another "POV Juggfuckers 6" scene, flashy blonde Nina Elle's guns are big for such a petite girl. Darkko cock-slaps her tongue and she titty-fucks his balls. Sperm makes her greasy, spit-spackled breasts even stickier, and Elle licks the slop from her jugs. "Noelle has some amazing, big, soft, real tits … made me want to blow my load right away," recalls Darkko. "Nina has perfect, round tits that are so fun to fuck! This one gets crazy-sloppy fast."
"POV Juggfuckers 6" remains crazy-sloppy throughout.
Download press release materials for Jonni Darkko's "POV Juggfuckers 6" here.