PR Guru and totally drug free James Bartholet has sent a few tweets out asking people to vote for him.. Gee TRPWL, what's wrong with that? Nothing other then James isn't nominated in any fan voting categories. So anyone trying to vote for him would have a very hard time doing so.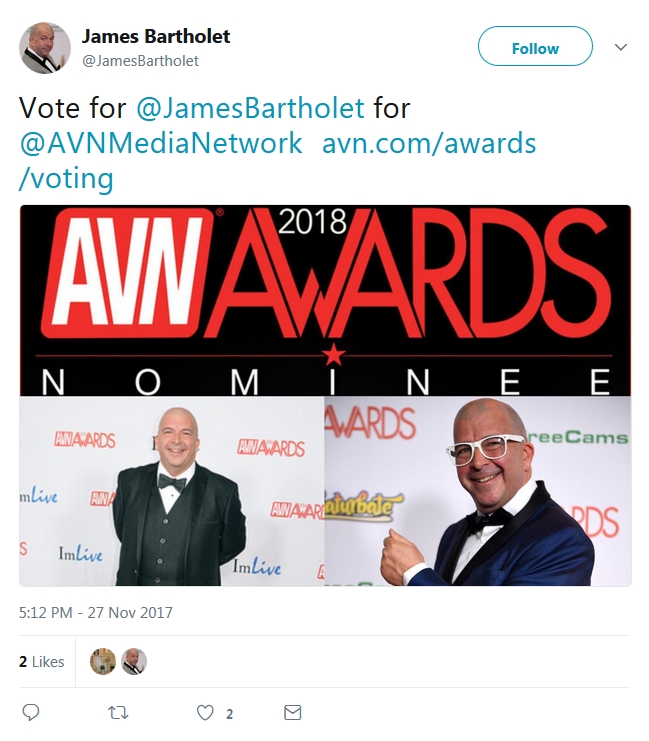 Good news though, TRPWL has nominated James for several awards, they are:
Future Kidnap Victim Of The Zetas
Best Coke coupons in the valley
Best Lines to trick newbs into sex err content trade
Most feature projects to never ever come out
Worst PR Agency in the history of porn, even worse than Erika "Sugar Cum" Icon
Most likely to be Tazed by an Uber driver
One second, I just had a thought,
I'm not Mike South, I don't piss in cups and I've never had my leg broken by a stripper.
Yea, I just threw that in there, it really has no bearing on this post other then Mike South pisses in cups and once had his leg broken when a stripper jumped on his back. That incident lead to 2 things, myself, the late Dr. Cindi Spiegler and Whiteacre referring to him as Mr Glass, and a wheel chair bound South assaulting a stripper.
Here is what I dont get, why in the world would anyone pay James for PR.
Check out his super secret mailing list:
From:

James Bartholet <

james@galaxypublicity.com

>

Date:

November 28, 2017 at 6:49:31 PM EST

To:

Darklady <

darklady@darklady.com

>, AVN PR Role Account <

pr@avn.com

>, pringlesADT <

pringlesadt@yahoo.com

>, Steve Nelson <

editor@ainews.com

>, Sharan Street <

sharan.street@avn.com

>, Tracy Allen <

tracyallen@nightmovesusa.com

>, Cindi Spiegler <

cindispiegler@gmail.com

>, Peter Housley <

phousley@naughtytweet.com

>,

editor@sinfulmag.net

, Rob Perez <

rob_perez75@yahoo.com

>, Scott Williams <

scotty@behindadult.com

>,

editor@xcritic.com

,

rog@rogreviews.com Subject:"Nickey Huntsman has new releases and toy deal coming out"
His mailing list consists of 13 people and 2 of them work for the same company..13 people!
Some of you actually give your money to a guy who's mailing list consists of 13 people. Most lists consist of anywhere from 300 to 2000 names.
For $200 bucks a month
James
will send out a super awesome PR like the one below to 13 people as well as make 6 random promotional tweets for you with links that may or may not work:
Adult Film Star Nickey Huntsman has new releases out now, and a new toy deal coming soon. Nickey Huntsman's new scenes include; a hot new three way scene for Brazzers with Jessy Jones and Osa Lovely, and a squirting scene with Danny Mountain. Also; two new scenes for Girlsway, and new scenes for Teen Fidelity with Tyler Nixon, Devils Films with Ryan McLane, Twisty, Mind Control Theater, Rough DP, and ATK

Nickey Huntsman is working on her own site; huntsmanvip.com Where you can find original scenes shot with her sexy XXX friends.  Huntsman is taking calls at:  Verifiedcalls.com/NickeyH

You can also find links to her webcamming and a regularly updated blog area.

Nickey Huntsman also has a popular YouTube page; YouTube.com/theshannamosity titled "Saintly Sinner Sunday Sermons"

Huntsman also has an exciting new toy deal from 1amdollusa.com that will be unveiled in February

Some of Nickey Huntsman's many diverse releases include; "Anal Perfection" from Vision Films, "Trans-Vision 3" from Evil Angel, "Black Massive Cocks.com" from West Coast Productions, "Squirt Monsters" from Little Dragon Pictures, and "Couple Seeking Teens 18" from Reality Junkies

Fans can follow Nickey Huntsman on Twitter @nickeyhuntsman

Nickey Huntsman is represented by 101 Modeling

To arrange an interview or appearance with Nickey Huntsman, please contact James at Galaxy Publicity; james@galaxypublicity.com
Who needs punctuation?
Anyway, make sure you vote for me for the 2018 AVNs https://avn.com/awards/voting/most-epic-ass   You can vote more then once…