Dr. Chauntelle Tibbals' much-awaited book,
Exposure: A Sociologist Explores Sex, Society, and Adult Entertainment
, is now available for pre-order as an e-Book for Amazon's Kindle tablet, Nook, iPad, and other devices. Until now, the book had been available for pre-order as a paperback only.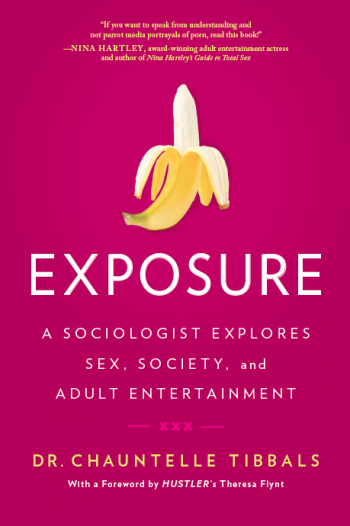 Readers may visit Amazon.com and click the option for either e-Book or paperback versions of the acclaimed book when they pre-order it. The added option gives people on the go the choice to select an electronic version of the book for easy access on their Kindle or other electronic devices.
The "must-read" book on the porn industry has been gaining much attention in recent weeks. Thanks to growing pre-orders and positive reviews, it has remained at or near the top of the Amazon chart for upcoming books on "Social Science: Study of Pornography."
"Having the option to pre-order my book in an electronic version gives readers greater flexibility to enjoy it with their favorite devices," Dr. Chauntelle said. "Whether as a paperback or e-Book, Exposure will give anyone a comprehensive glimpse into the world of adult entertainment and the people who inhabit it."
Published by Greenleaf Book Group, Exposure: A Sociologist Explores Sex, Society, and Adult Entertainment will be available to own July 7, 2015. To pre-order the book, click here.
Exposure has gained the attention and praise from academics, media, and adult industry members, all of who have hailed its fresh approach to social inquiry. "If you want to speak from understanding and not parrot media portrayals of porn, read this book!" said Nina Hartley, award-winning adult entertainment actress and author of Nina Hartley's Guide to Total Sex, whose testimonial is featured on the book's front cover.
Ronald Weitzer, PhD, of George Washington University called the book's view of the adult industry as "unique and fresh." Others like Kathryn Hausback Korgan, author of The State of Sex, said readers will get a "better understanding of an often misunderstood industry, and a fresh perspective (of porn)."
Exposure is a compelling first-hand narrative and a no-holds-barred testimonial challenging existing stereotypes about sex and adult entertainment from the perspective of one of its foremost experts. Dr. Chauntelle recounts humorous personal tales at her first adult industry trade convention, reflects on being an AVN Awards judge, and discusses her struggles as a scholar interested in learning more about adult entertainment.
>Media may request a review copy of Exposure by emailing Press@ChauntelleTibbals.com.
About Dr. Chauntelle:
Sociologist Chauntelle Tibbals, PhD studies human interaction in and with society, making sense of the patterns and processes she sees occurring in social behavior. Dr. Chauntelle's scholarly focus includes studies in gender, sexualities, work & organizations, media & new media, popular culture, and qualitative research methods. Her research over the past decade has centered on an extremely varied and volatile topic: the socio-cultural significance of adult content and adult content production. Through understanding both the scholarly/theoretical and real-world sides of the adult entertainment business, her work sheds a fresh critical light on a very influential and highly stigmatized component of our contemporary culture. Her research has been published in numerous scholarly journals including Sexualities, Gender Work & Organization, Journal of Contemporary Ethnography, and Stanford Law and Policy Review and is featured in W.W. Norton's The Real World (4th ed, 2014). She is quoted and cited extensively by cultural and news media outlets including CNN, NBC News, Business Insider, ABC-Univision, BloombergTV, Huffington Post, Jezebel, Slate, Time Magazine, and KPCC (NPR). For more information, visit her official website, http://ChauntelleTibbals.com, or follow her on Twitter at http://Twitter.com/DrChauntelle, and on Facebook at http://facebook.com/DrChauntelle.