Los Angeles – Elegant Angel is known to honor the hottest award nominees with their Performer and MILF Performer of the Year series. Now, Elegant Angel wants to show some love to the hottest girl/girl performers with "Lesbian Performers of the Year 2018". This is the ultimate DVD for all fans of girl/girl porn, and includes Shyla Jennings, Charlotte Stokely, Jenna Sativa, Darcie Dolce, Aiden Ashley, Jayden Cole, Serena Blair, and Val Dodds. Elegant Angel is shipping all preorders of "Lesbian Performers of the Year 2018" starting today, with a street date of April 23rd.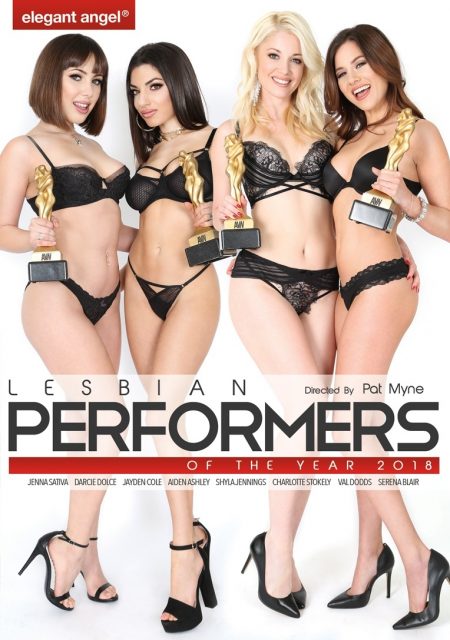 Pat Myne directed four incredible scenes, packed into two hours. Each scene begins with the girls describing why they enjoy being girl/girl performers, and what it means to them to be recognized. Shyla and Charlotte open the DVD, and get right into the fun. Next up is Jenna and Darcie, who add a little toy to the mix. Aiden and Jayden's scene amp up their passion with a wand, and we close with Serena and Val who can't get enough of each other.
Jenna Sativa enjoyed filming for "Lesbian Performers of the Year 2018," commenting, "It was  fun shooting for another Lesbian Performers of the Year movie. I loved that we got to goof off in the beginning in a freestyle dance! It started a fun vibe which went into the scene. I loved the energy we shared!"
Jayden Cole commented exactly what made her scene so special. She said, "It's such an honor to be a part of Elegant Angel's Lesbian Performers of the Year movie. Pat Myne brings the HOTTEST names in girl/girl all together for this. I've been able to work with some of my absolute favorite girls in this series, so when I heard that I was getting paired up with Aiden Ashley, I knew everyone would be blown away. When I first started in this industry, she was one of my first hookups, on AND off camera!!  She is an incredible performer & partner. After a few years, she still knows all my sexual secret spots on my body to make me go crazy. This is hands down one of the best scenes I've ever shot!"
Elegant Angel is shipping all preorders of "Lesbian Performers of the Year 2018" immediately, and copies will be available for purchase online and at retail stores everywhere on April 23rd. Fans can view the trailer at https://elegantangel.empirestores.co/1967664/lesbian-performers-of-the-year-2018-porn-movies.html.
Elegant Angel's official membership website, ElegantAngel.com, boasts a catalog of 929 movies, including classic content to exclusive access to new scenes and BTS before they are released on DVD. Members can watch online through a Roku streaming device, and enjoy a 10% discount on all sex toys and DVDs purchased through their official online store. Elegant Angel offers several membership packages to fit every budget, starting at just $0.41 a day.
For sales inquiries, please contact Jerry at sales@elegantangel.com or 818.576.9464. Broadcast and foreign inquires can be directed to juicyvideo@aol.com.
PR for Elegant Angel is provided exclusively by XXX STAR PR. Follow us on Twitter, @XXXStarPR and check out our website, xxxstarpr.com. For interviews or media inquiries, contact xxxstarpr@gmail.com.