Teen Mom star Farrah Abraham has followed up her $1million sex tape windfall by announcing her first endorsement deal.
The 21-year-old former MTV reality show personality has signed on to endorse weight-loss supplement Raspberry Tones.
Farrah recently filmed a 'private' sex tape that she sold for a reported $1.5million to porn distributors Vivid Entertainment.
Farrah was paid in the low six figures to endorse the weight-loss product and company officials said recent bikini shots of her drew their attention, according to a report Monday by TMZ.
The mother of four-year-old Sophia posted a video on YouTube on Sunday talking about her support for Raspberry Tones and sent a promo code out on Monday via Twitter.
She said in the video that many people ask her how she stays 'fit and fabulous as a busy mom' and noted that she's a 'big fan of all-natural ingredients with no side effects.'
'That's why I chose Raspberry Tones, which includes raspberry ketone and other natural ingredients,' she said.
The video was similar in style to one Farrah posted last week defending her decision to produce and sell her sex tape.
In that video, Farrah lamented being a lonely, single mother and said she was crying a lot before making the porn flick.
She rested her defense, by putting on a pink Vivid Entertainment cap.
Farrah initially denied the sex tape even existed when the news first broke out last month, but porn star James Deen confirmed it amid a media flurry.
The single mom has said she would use the proceeds from the 70-minute production called Farrah Superstar: Backdoor Teen Mom to complete a master's degree and focus on culinary business endeavors.
Other young mothers on the MTV show expressed their disapproval of Farrah's behaviour on Monday via Twitter.
Teen Mom 2 star Kaily Lowry sent a tweet out saying: 'I wish Farrah's porno title had nothing to do with Teen Mom. -_- Not all of us want to be associated with that.'
Farrah's fellow Teen Mom Catelynn Lowell also had some unkind words in regard to the sex tape that she shared in a tweet.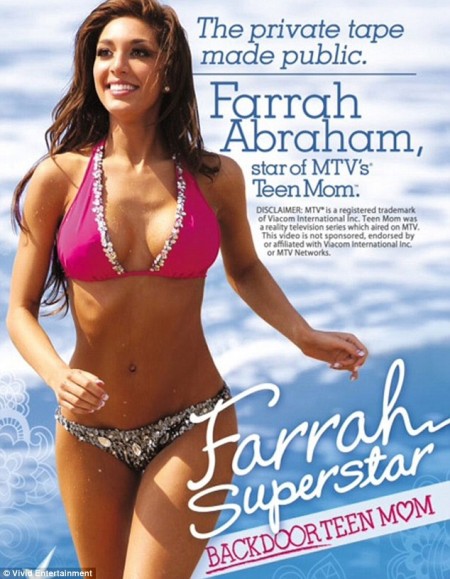 'All I have to say Is she sounds like a dying horse!! U kno who I'm talking about,' Catelynn's tweet read.
Farrah herself kept silent on Monday after tweeting that Vivid had released her tape.
'I KNOW WHAT'S OUT- Don't talk to me about it:) Thanks #XXX,' she tweeted.
Farrah filmed four seasons of the MTV series, documenting her struggle to raise her daughter as a young single mother.
Her child's father Derek Underwood died in a car accident in 2008 while she was eight months pregnant. (They were estranged at the time.)
She wrote about her grief in her 2012 memoir, My Teenage Dream Ended.